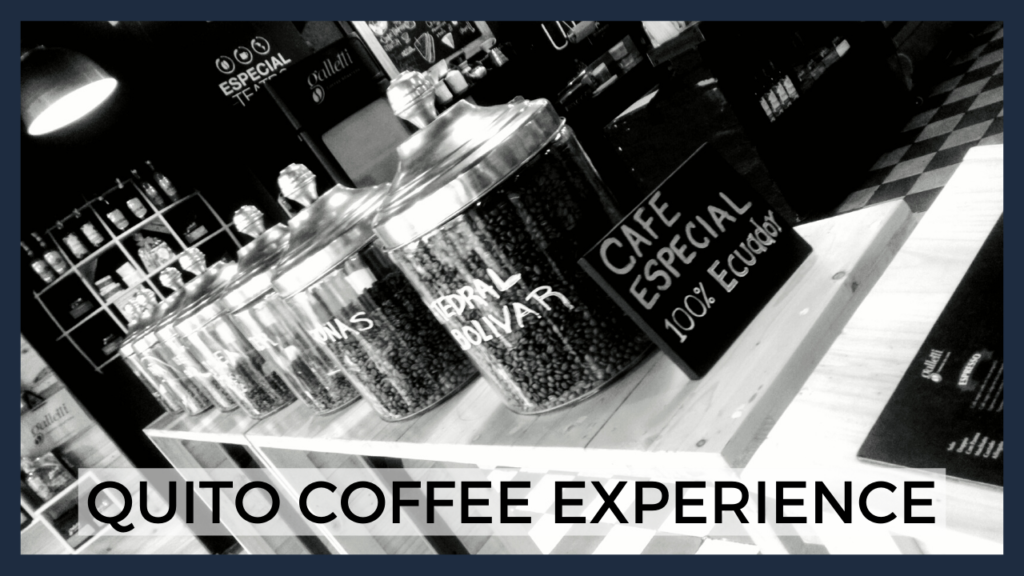 Tour Description
Specialty coffee in Ecuador has recently been revived and has been in the global spotlight for quite some time now, receiving countless awards.
Although Ecuador was a top coffee exporter back in the late 1800s, coffee culture disappeared and new trends like instant coffee changed the way Ecuadorians drank coffee. No longer did the whole family gather around the dinner table at 5 o' clock for a cup of coffee made by the family elder using traditional brewing methods such as "la chuspa" a cheesecloth used to filter coffee or the use of "esencia", coffee concentrate which you sprinkled on top of hot water or milk. The introduction of instant coffee made coffee a to-go type of affair, at the office, at home or on the street.
Nowadays, things have changed and a new coffee culture is brewing in Quito and Ecuador as a whole. You can now find new cafes all over town, all with unique brewing methods, distinct coffee varieties, hipster decor and latte art that will entice and surprise you.
I consider myself a coffee connoisseur and have done the research needed to know where you can find the best cup of coffee, the best coffee production and the best ambiance for an unforgettable coffee experience in beautiful Historic Quito.
Come along with us on this UNIQUE tour of Quito, discover some of the best coffee you've ever had, take a trip back in time and visit a vintage coffee roaster, take in the sights as you munch on tasty traditional snacks, and people watch and chill out on a terrace or open-air cafe as you taste, smell and enjoy an unforgettable cup of coffee in an unforgettable place!
Coffee Experience Itinerary
You will be picked up at your hotel at the scheduled time and have a private transfer to the Historic Center.
Once there, we will walk to visit a traditional and unique candy and snack shop as well as a vintage coffee shop where coffee is roasted and ground as you watch and take in the intoxicating aroma which you can smell on the street way before you enter the shop. You can buy and take home some high altitude Arabica coffee available in dark, medium or light roast and a specialty blend called "bourbon" which was recently introduced and has a hint of chocolate.
After visiting the coffee roaster and taking a stroll through the "Plaza Grande" and other Historic Quito highlights, we will enter a specialty coffee shop to try one of the best cups of coffee made in Ecuador which has won many awards, a true connoisseur experience. Here you will have a coffee tasting and be able to see latte artists at work, while you enjoy your coffee on a Historic Quito balcony.
The next stop is a renowned Quito theater, which burned down years ago and has not yet been fully restored. At this one of a kind cafe, you will be able to taste and enjoy coffee varieties from the Ecuadorian rainforest, cloud forest, highlands, and Galapagos islands which are readily available and stored in glass containers you can open and take in a whiff. Ask for your favorite variety to be brewed and take your coffee of choice outside to enjoy a perfect cup of coffee at one of my favorite spots on earth.
We will end the tour with a visit to a sweets shop established back in 1935, located in a traditional Quito neighborhood on the San Juan hill behind the gothic Basilica. Here you will be able to savor some timeless Quito sweets, my suggestion is to try the "quesadilla" which has nothing to do with the Tex-Mex quesadilla, but is a sweet pastry, crunchy and fluffy at the same time and ever so tasty. Here you will find the best quesadilla in Quito, hands down!
How much does this tour cost?
Included
Private transportation from and to your hotel.
Private experienced bilingual guide
01 coffee tasting menu
Snacks on route
Special tour souvenir
Not included
Extra coffee at shops
Extra snacks or desserts
Tips for the guide
Other souvenirs
Important Information
Trip duration – 4 hours
Approximately $30 USD cash needed for souvenirs, snacks, and extra coffee.
Bring along an umbrella Quito weather is ever-changing
Bring along sunblock
Bring along a great attitude! You are in for a fantastic experience!