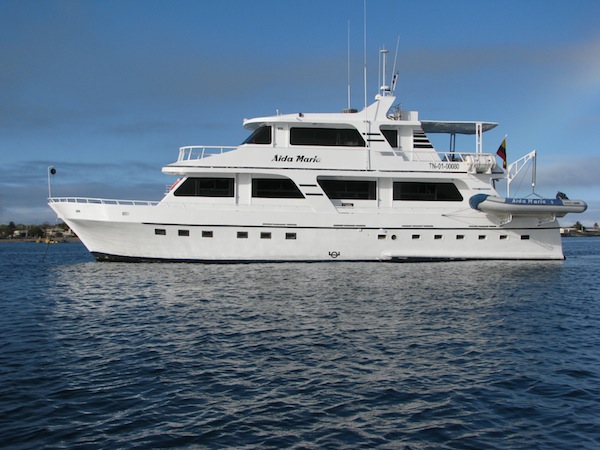 A Comfortable Galapagos Yacht Experience
The 16 passenger Aida Maria offers a great combination of comfort, style, and economy for tours in the Galapagos. Each of the eight double cabins has a private bathroom with hot showers, air conditioning, an ample external deck to enjoy sunny Galapagos days. The M/Y Aida Maria started operating in the Galapagos Islands in 1997, with more than 20 years of experience cruising the Galapagos you know you are in safe hands!
Its design is based on efficiency and comfort with ample social areas and 8 cabins providing optimum comfort for your experience exploring the Galapagos. She takes 16 guests in double cabins with private facilities, A/C and hot water.
Come aboard for an unforgettable experience, that won't break the bank!
Aida Maria history
The Aida Maria is one of the very few yachts entirely hand made in the Galapagos Islands. All materials were procured from local farms. It is one of the most traditional and classic boats in the Galapagos, the owners have been running tours in the islands since the 1960s. For a classic experience of the Galapagos with one of the best boats with excellent service, experienced captain, friendly crew, and great food, the Aida Maria is your choice.
What to expect on the Aida Maria comfortable Galapagos yacht?
All meals included
Certified bilingual guide
Comfortable accommodation
Picture windows
Social areas to enjoy the Galapagos landscapes
Cabin configuration
Accommodation:
The Aida Maria has 8 very comfortable double cabins located on three decks, four on the Main deck, two on the upper deck and two on the sun deck, each cabin has upper and lower beds, private bathroom with hot showers , all cabins have the same price and are assigned on a first come first serve basis, so if you want the upper deck cabins please be the first one to make your reservation and ask for availability, however, all cabins are the same size and have the same facilities.
Aida Maria Itineraries explained
Onboard the Aida Maria you will have a choice between 6 different itineraries. Two 8-Day itineraries, two shorter 6-Day versions and 5 and 4-day itineraries. Let´s see what these 6 itineraries are all about.
8-Day A Itinerary
The 8-Day A itinerary of the Aida Maria is pretty great. It's a week-long itinerary heading to the Southeastern islands of Floreana and Española and up north to the renowned Genovesa island.

The itinerary visits the Southeastern islands of Floreana and Española in style. You will get a chance to snorkel at the Devil´s crown which is hands-down the best snorkeling in the Galapagos Islands!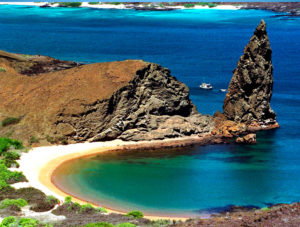 On top of this you will head north to Genovesa Island, aka ¨bird island¨, where you will be able to spot tons of birdlife and enjoy great snorkeling. Bartholomew island is also included where you can take the quintessential Galapagos pic with Pinnacle Rock in the background.
Shorter itinerary versions
Onboard the Aida Maria, you can choose how long you stay on the islands. You can opt for a 4 or 5-day itinerary (C and D) or for two 6-day itineraries which combine activities from both itineraries A and B. It really depends on your time and travel dates. Its good to have plenty of options available, especially if you have fixed travel dates for your Galapagos trip.
8-Day B Itinerary
If you thought the A itinerary was great you have are in for a treat with the B itinerary of the Aida Maria.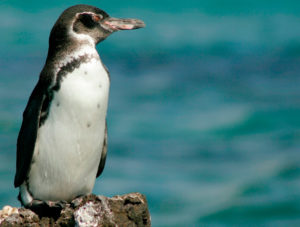 On the 8-Day B itinerary of the Aida Maria, you will head west to the fabulous islands of Fernandina and Isabela. The western islands in the Galapagos are the most sought after islands. They will provide a guaranteed perfect Galapagos experience, including, tons of wildlife, a chance to spot whales, incredible activities, and amazing snorkeling. All this with hand-picked guides.
On top of all this, you will head to Santa Fe island where you will be able to spot the endemic Santa Fe Iguana. Highly recommended!
Connoisseur Tip:
The Aida Maria is a great comfortable Galapagos yacht with experienced staff on board. Regarding its itineraries I would recommend taking the week-long A itinerary which visits IMHO the best islands in the Galapagos, you will get to see Floreana, Española, and the wonderful and very sought after Genovesa Island (aka bird island). If you don't have a week to spare, you can consider the 6-day itinerary F which visits the Western islands of Isabela and Fernandina on a shorter itinerary.
Aida Maria Itineraries
Aida Maria, rates, inclusions, exclusions, important info, and specs
Aida Maria 2020 Rates

Rates Include:
Accommodation on board in double cabin occupancy.
All meals onboard according to the daily menu.
Drinking water, coffee, tea.
Visits to the islands with a licensed English speaking guide according to the itinerary.
Transfers at airports (Baltra bus ticket is not included)
Rates do not include:
Galapagos islands entrance fee $100 US per person.
Transit control card. (TCT $20 US per person).
Flight Ticket from $520 USD.
Buses at Baltra airport ($5 US per way).
Isabela island entrance fee.
Snorkeling gear & wet suit.
Tips and personal expenses.
Alcoholic or extra drinks.
Everything that is not specified in the program.
Important Information:
Single supplement: 80%
Rates are per person
Child discount for children 12 years old or younger: 20%
NOTE: 
Itineraries and boats might be changed due to force majeure, weather conditions, and park authorities regulations, in case of complaints they will be redirected to each boat's legal representative in the Galapagos Islands.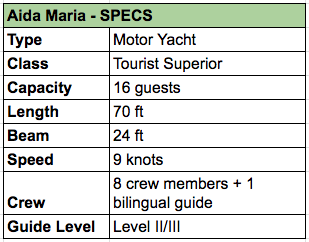 Social areas aboard the Aida Maria Yacht
Amenities:
All cabins and indoor areas are air-conditioned
Social areas: Dining room, living room, sundeck, and entertainment center.
Deckplans