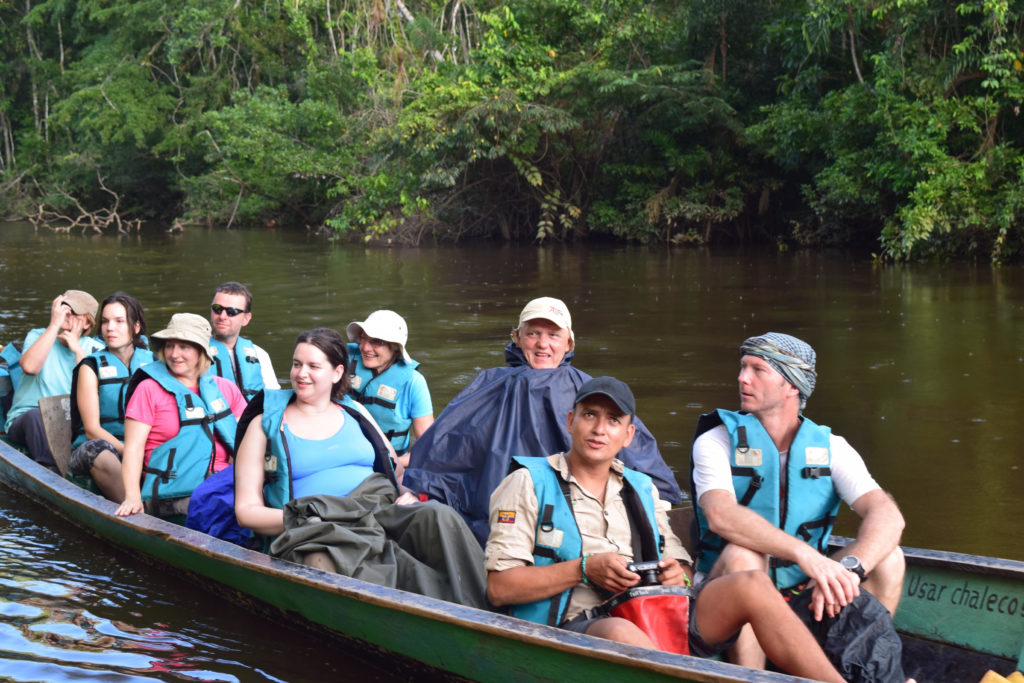 Budget Rainforest Vacation
The Piranha Lodge is the perfect choice for adventure travelers looking for the best budget rainforest vacation.
Location
The lodge is located in the heart of the Ecuadorian jungle a few hours by bus, private transport, or 30 minutes by plane. It has been operating in this region for more than 10 years now and they are the local experts when it comes to the Cuyabeno, and will provide the best Amazon experience. ¡
Perfect for backpackers and budget travelers
Backpackers and budget-conscious travelers will love the Piranha lodge. It provides an excellent Amazon experience at a reasonable price point. Solo travelers can choose to share a cabin with other travelers of the same gender to not incur a single surcharge.
Piranha Lodge activities
There are tons of great activities you can take part in when you visit the Piranha Lodge:
Observation Tower *new*
Forest Walks
Creek Paddling
Caiman Spotting
Bird watching
Night walks
Connoisseur Amazon Tip:
Piranha Ecolodge Accommodation
Piranha Ecolodge consists of 14 standard rooms located in the traditional huts; four superior rooms in the tower, use as matrimonial doubles or triple and one superior room located in a traditional hut. The capacity for the Lodge is for 20 people.
Standard rooms
There are three traditional huts, one of the huts is located in the central part of the lodge; it features two matrimonial rooms and two double cabins convertible to matrimonial or twin beds. The other two huts have one matrimonial room in each cabin and two double cabins also convertible into matrimonial or twin beds.
Superior rooms
Superior rooms are a new addition to the Piranha ecolodge. Four superior rooms in the main tower are convertible to matrimonial or twin accommodation. These rooms boast amazing views of the rainforest and the Cuyabeno River. Superior rooms feature private bathrooms with hot and cold water and a private balcony. There is also one superior hut located next to the tower designed in a traditional style, available for a couple.
Amenities
Rooms have a private bathroom, hot and cold water, and mosquito net. Superior rooms in the tower have large windows and a private balcony.
Social Areas at the Piranha Lodge
The rooftop in the canopy tower allows for the best views of the rainforest, Cuyabeno River, sunrises, sunsets, and star gazing at night.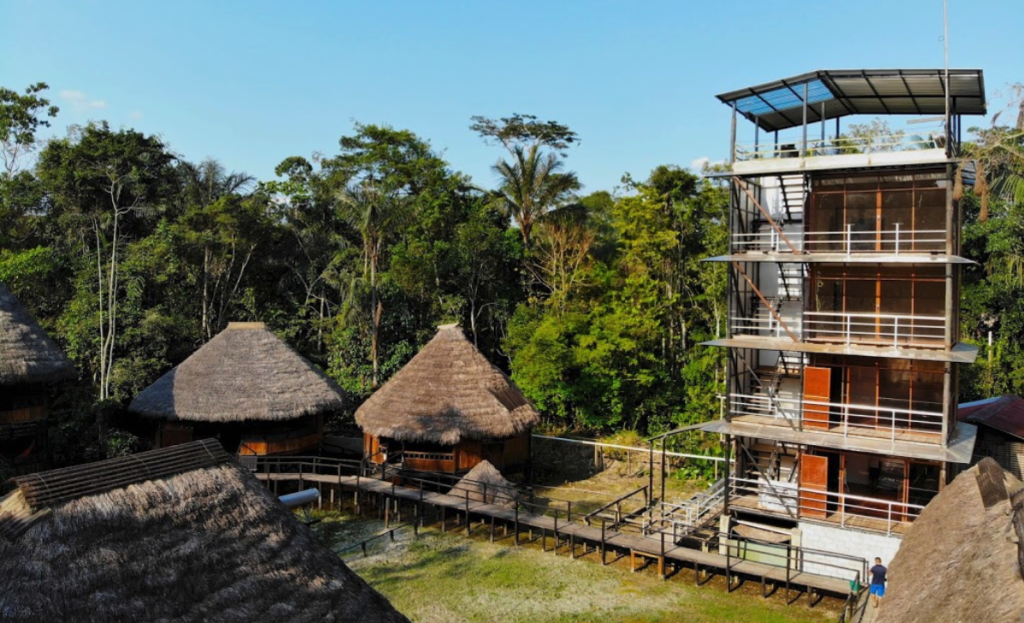 Piranha Lodge Information
Lodge Activities:
---
Forest Trails
---
There are big chances for you to see a great variety of wildlife such as insects, birds, reptiles, and mammals. Some typical animals you may spot are; anacondas, spiders, giant armadillos, birds such as hoatzins, macaws, toucans, parakeets, parrots as well as monkeys, tapirs, ocelots, etc.
---
Canoe Riding
---
Explore the rivers and lakes on board a motorized or paddle-canoe! In the river, creeks, and lakes of the Amazon Rainforest, you will find hundreds of different aquatic animals such as fish, caimans, turtles, piranhas, and Amazon dolphins.
---
Birding
---
A plethora of bird species can be found in the Cuyabeno National Park, giving you the best bird watching experience, and an unforgettable adventure.
---
Siona community
---
Visits to the Siona Community include a cooking class where you will learn to make Casave a local dish made from yucca. A visit to the Shaman is also included.
---
Hikes
---
Our programs include easy and medium intensity walks and hikes in order to observe the wildlife and nature of the area; more difficult hikes and longer programs can be arranged.
---
Swimming
---
Swimming can take place in the Laguna Grande (Big Lake) close to the lodge.
---
Caiman Spotting
---
You will go on night canoe excursions, where you will be able to spot caimans in the water.
Piranha Lodge – 4 days/3 nights itinerary
---
*You can add more days to your Amazon stay. A minimum of 4 days is recommended.
---
Day 1: Arrival to Lodge / Getting Settled in / Night trek  
---
Take an early morning Flight (9:15 am) or bus (previous night departure – 8 hours) to Lago Agrio. If you arrive by bus you will meet at the designated meeting point in Lago Agrio, if you arrive on a flight you will be picked up upon arrival to the airport and then transferred by Private land transportation from Lago Agrio to El Puente. Here you will take a Canoe trip down the Cuyabeno river to our lodge. Lunch upon arrival to the lodge. After lunch, you will have some time to settle in and then go on your first activity. A visit to the Laguna Grande where you will be able to swim and enjoy one of the most beautiful sunsets on Earth. Return to the lodge for Dinner. After dinner and some rest, you will enjoy an exciting night trek where you will spot tons of night creatures and be able to listen to the sounds of the rainforest at night.
---
Day 2: Paddle in Lagoon / Trek / Sunset at Laguna Grande
First thing in the morning you will have a tasty breakfast. After this, you will paddle in a traditional canoe on Laguna Caimancocha to enjoy the uniqueness of nature and this truly pristine and impressive surrounding. Lunch will be served at the lodge. After lunch and some rest, you will hike in the primary rainforest, this trek includes lessons on the use of medicinal plants for survival. Before returning to the lodge, you will have some relaxing time in the Laguna Grande, where you can swim and enjoy the sunset. If conditions permit, you may be able to see pink dolphins. Return to the lodge for a well-deserved dinner.
---
Day 3: Siona Community Visit / Trek / Search for the Caiman at night
First thing's first- breakfast. After breakfast, you will visit the Siona Tarapuy Community where the naturalist guide will explain a bit about the indigenous culture and traditions. Lunch follows this activity and then a walk. After this, return to the lodge for dinner. After dinner, you will take a night canoe expedition in search for caimans.
---
Day 4: Early Morning Bird-watching / Farewell to Samona Lodge
Early morning bird watching then you will have breakfast. Farewell to the Samona lodge, navigation on the Cuyabeno river back to El Puente. Box Lunch en route. Transfer to Lago Agrio. Return to Quito by bus or plane (16h00).
Piranha Lodge 2020 Rates
How to get to Piranha Lodge?
---
To visit and enjoy the Piranha Lodge located in the  Cuyabeno National Park, you must first get to Lago Agrio. Below you can find several ways to do this:
If you come from Quito to Samona Lodge reserve our private bus, which will be available all throughout the week except Tuesdays and Saturdays. (Unless there is a minimum group of 5 people) The trip by private bus from Quito takes 6 to 7 hours and takes you to our meeting point in Lago Agrio, where you will have time for breakfast. At 9:30 am we will leave Lago Agrio to the Cuyabeno bridge.
---
QUITO – Lago Agrio
---
Meeting point:
 Secret Garden (José de Antepara and Los Rios, Quito 170136).
Departure Time:
 22h45 pm.
Operating days:
Monday, Wednesday, Thursday, Friday, and Sunday.
One way price
: $20 USD per person
---
Lago Agrio to QUITO
---
Meeting Point:
 Airport Lago Agrio.
Departure time:
 3:00 pm  
Days:
Monday, Wednesday, Thursday, Friday, and Sunday.
One way price:
 $20 USD per person
What To Bring to the Piranha Lodge
---
Long sleeves, 2 or more
Comfortable pants, 2 or more (no jeans)
Shorts, 2 or more
T-shirts, 2 or more
Socks, one pair per day
Tennis shoes and/or sandals
Thick jacket and sweater
Biodegradable or natural Soap and shampoo
Swimsuit
Cotton Underwear (optional)
Glasses
Camera
Small backpack (waterproof)
Mosquito repellent
Bags for equipment, clothes, papers, etc.
Binoculars (optional)
Flashlight with extra batteries
Sunscreen
First Aid Box
Hat or cap
Plastic bottle
Notebook and/or book
Towel
Original Passport and/or identity card