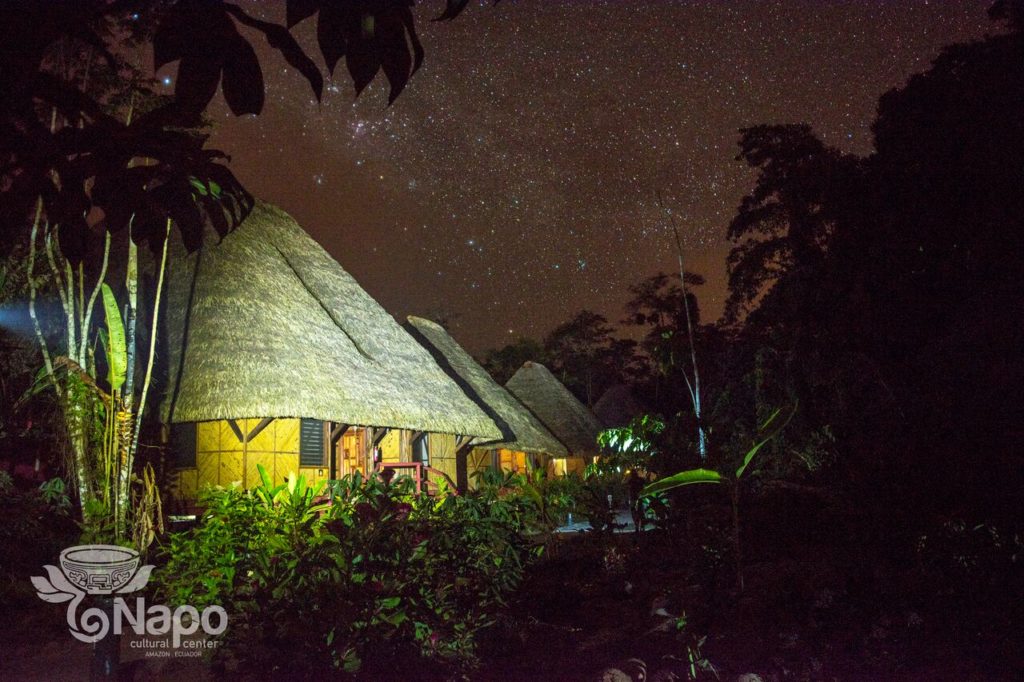 Wildlife and ancient culture at the Napo Cultural Center
Discover the Napo Cultural Center which offers modern accommodations, first-class services, and direct contact with the Kichwa Community. Try traditional cuisine and share ancestral rites like the Wayusada Ceremony or the Kichwa Catamaran which emulates our trade routes along the river. This is sure to be an unforgettable experience!
Perfect for families and groups
Perfect for couples, families, and groups of friends, for a holiday or short break, the Napo Cultural Center offers the unique opportunity to enjoy a close and personal encounter with nature, as well as a spiritual experience.
Exclusive activities at Napo Cultural Center
There are tons of great activities you can take part in when you visit the Napo Cultural Center:
Canopy Walk
Yasuni Parrot Lick
Kayaking
Forest Walks
Creek Paddling
Caiman Spotting
Bird watching
Wayusada Ancestral ritual
Night walks
Ancestral Catamaran
Cultural center
Fine dining in the midst of the Amazon
Fresh tropical fruits
Start your day with delicious tropical fruits and enjoy organic vegetables which are locally grown and accompany other culinary marvels that await for you after each expedition in the rainforest.
Gourmet cuisine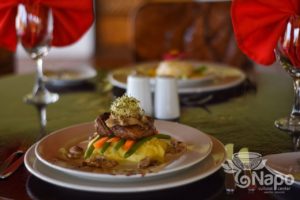 Meals are part of the incredible experience. Enjoy dishes prepared with seasonal and local products. You can expect delicious Ecuadorian cuisine and local delicacies at the traditional dinner. You will be accompanied by splendid views of the rainforest and the company of your Kichwa guide, which makes this an unforgettable adventure you will cherish.
Cocktails and drinks
Share anecdotes from your expeditions with fellow travellers at the bar, while enjoying classic drinks with a local touch.
Connoisseur Amazon Tip:
The Napo Cultural Center is a must-visit when traveling to Ecuador and the Amazon Rainforest. I recently got the opportunity to stay at the lodge. You can check out my experience here.
It's a great lodge, it has comfortable First-Class accommodation, tons of fascinating activities, and incredibly friendly and helpful staff. All these aspects come together to make for the perfect Amazon rainforest experience. The differentiating factor of the Napo Cultural Center is the cultural aspect. I wasn´t too psyched about the cultural aspect but after dancing with the locals, learning about Kichwa culture, and taking part in the early morning Wayasuda ancestral ritual I can attest to the powerful connection you make with nature and mother Earth. Highly recommended!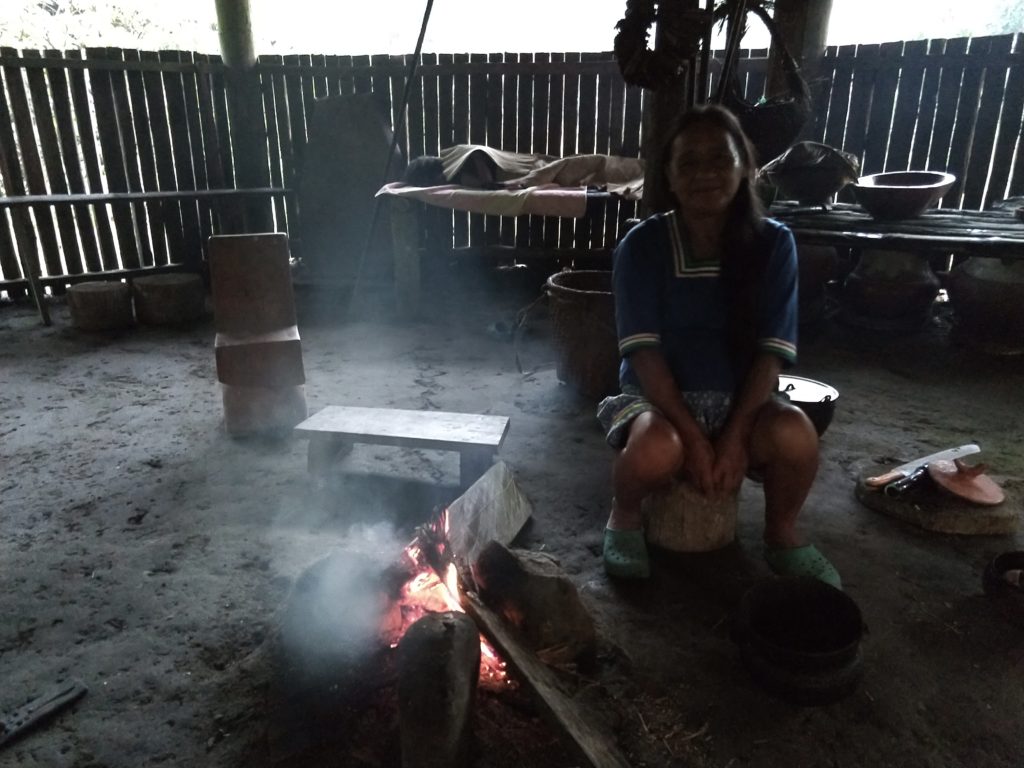 Napo Cultural Center Accommodation
Cozy rooms
The Napo Cultural Center boasts comfortable facilities that offer the same luxurious features of a "city hotel" mixed with traditional Kichwa architecture and craftsmanship. You will be able to relax in a hammock on your own balcony day or night, listening to the sounds of the forest. When the comfort and charm of your "home away from home" is combined with these natural surroundings, it creates a unique experience you will never forget.
Amenities
Ceiling fan
Safe-deposit box
Wifi Signal
Mosquito nets on all beds
Luxury bed linens
A carafe of purified water in your cabin
Cotton towels
Napo Cultural Center Information
Napo Cultural Center Activities
---
Forest Trails
---
There are big chances for you to see a great variety of wildlife such as insects, birds, reptiles, and mammals. Some typical animals you may spot are; anacondas, spiders, giant armadillos, birds such as hoatzins, macaws, toucans, parakeets, parrots as well as monkeys, tapirs, ocelots, etc.
---
Canopy Observation Tower
---
Get a close-up view of the jungle and its diverse flora and fauna. This 36 meters observation tower was built next to a huge tree and it offers you the best view of the Amazon Rainforest. Observe flocks of colorful birds flying and the magnificence of the trees, flowers, and nature the Amazon Rainforest has to offer.
---
Canoe Riding
---
Explore the black waters of the Anangu Lake and the Napo River creeks on board of a motorized or paddle-canoe! In the river, creeks, and lakes of the Amazon Rainforest, you will find hundreds of different aquatic animals such as fish, caimans, turtles, piranhas, and giant otters.
---
Parrot Clay Licks
---
Are the most stunning nature encounter in the Amazon Rainforest. These are natural banks containing a great number of minerals that birds and different animals feed upon. This event starts early in the morning when hundreds of vibrantly colored birds visit the licks.
---
Interpretation Center
---
Learn about the Kichwa Anangu community traditions and culture of the Napo Wildlife Center hosts. Women of the community will welcome you with typical dances, rituals, handcrafts food, and drinks.
---
Birding
---
More than 610 bird species can be found in the Yasuni National Park, giving you the best bird watching experience, and an unforgettable adventure in the most biodiverse place on earth.
---
Añangu kichwa community
---
Activities at the Yasuní National Park and Añangu are coordinated by members of the local kichwa community and it is important that their rules of conduct and ethics be respected.
---
Hikes
---
Our programs include easy and medium intensity walks and hikes in order to observe the wildlife and nature of the area; more difficult hikes and longer programs can be arranged.
---
Ancestral kichwa catamaran
---
At night we will sail along the Napo river in a boat that emulates the ancestral kichwa trade, where we will enjoy magical stories and legends while tasting some delicious roasted snacks heated on the fire.
---
Traditional dinner
---
Enjoy the kichwa ancestral cuisine, taste the delicious flavors of "maito" made with fish, prepared in a leaf of "bijao", accompanied by fried cacao and exquisite "mayones" or "chontacuros" (palm worms). Refresh yourself with exquisite manioc chicha, a beverage made of manioc fermented with sweet potato and hygienically prepared for the most demanding palates of our visitors.
---
Swimming
---
Swimming is safe when carried out at sites your guide has suggested.
---
Kayaking
---
Enjoy a level II kayak activity at the Napo river, from the village for around 45 min. until you reach the observation tower.
Napo Cultural Center – 5 days/4 nights – Sumak Kausay Itinerary
---
You can choose 3,4 and 5-day itineraries at the Napo Cultural Center. Below is the 5-day itinerary which can be shortened for your choice of itinerary length.
---
Day 1: Flight from Quito to Coca – Arrival to Napo Cultural Center 
Your journey begins in Quito where you will take a flight to El Coca in the Orellana province, the gateway to the Amazon Rainforests in Ecuador. Upon arrival, you will have assistance at the airport and will take a transfer to "La Mision" port to board the speedboats that will take you to the Añangu community. During this trip, you will be able to spot various types of birds on the shore and some beautiful landscapes. Upon arrival to the lodge you will be given a refreshing welcome drink and some snacks, then you will be assigned your rooms and will have time to settle in your new home in the middle of the rainforest. In the afternoon hike along the "Playas" trail to experience Amazon wildlife for the first time in the river islands and shores amidst one of the most biologically diverse places on Earth. Kayaking is also available as an optional activity for around 45 min. to enjoy an overwhelming and colorful sunset in the vastness of the Napo River. Then head back to your cabin, rest a little bit and be prepared for a well-deserved dinner. After dinner sleep with the relaxing sounds of the Amazon.
Day 2: Community visit – Black Water paddle – Night walk 
Enjoy the sunrise at breakfast, visit the sustainable community projects, talk about the worldview Kichwa Addition to medicinal and walk in the Mama Cuna road, excellent opportunity to see more wildlife, ceiba trees, strangler, bamboo cane, vines and shrubs endemic from Yasuní. In the afternoon after a delicious local lunch paddle around "Añangu" stream, a black water ecosystem where you can spot monkeys jumping from tree to tree, caiman and sometimes even giant river otters trying to catch fish. Upon arrival you will have time to settle back and prepare for a traditional dinner, where you will taste the local flavors of the Amazon, such as "maito" which is grilled fish wrapped in a "bijao" leaf and if you have an adventurous palate try the grilled worms of the "chonta tree" locally known as "chontakuru". After dinner, prepare your flashlight for a night walk around the lodge to spot various insects, reptiles and even nocturnal mammals like night monkeys.
Day 3: Parrot Clay Licks – Interpretation Center – Ancestral Catamaran ride 
You will start your day with a tasty breakfast and then will take a canoe to not one but three spectacular and easily accessible parrot clay licks, where you will be able to spot 11 different species of parrots. After this amazing visit, you will visit the Interpretation Center "Kuri Muyu", managed by the women of the community. Here you will learn about the Kichwa; culture, handicrafts, traditions and the ancestral use of natural resources. Return to the center of the community to have lunch at the dining hall and take a break in the lodge before hiking one hour in order to climb up the observation tower reaching 35 meters above the surface with high chances to spot a variety of birds, howler monkeys, squirrel monkeys, toucans, parrots and sloths. Time for dinner followed by a unique activity at the Napo river, onboard the ancestral catamaran to get to know more about their legends and traditional chants, while women grill some delicious snacks on the fire.
Day 4: Trekking on Samona trail – Observation Tower – Traditional Farewell dinner 
Wake up with the chirping of Amazonian birds, to enjoy our local and organic breakfast buffet. After this, put on your rubber boots to start hiking the terra-firme forest at "Samona" trail, where you can feel like "Indiana Jones" in the middle of century-old kapok trees, spot capuchin, woolly and saki monkeys, look under the leafs to spot bizarre insects and tune your eyes and ears for the birds, monkeys, and reptiles among the dense forest. Return to the eco-lodge for a refreshing drink and prepare for an exquisite lunch, including local specialties. In the afternoon after a delicious local lunch, visit our second canopy observation tower to see more of the 600 hundred species of birds with specialized telescopes for wildlife watching. Upon arriving you will have time to settle back and prepare for a traditional typical dinner to taste local flavors of the Amazon, such as "maito" which is grilled fish wrapped in a "bijao" leaf and if you have an adventurous palate try the grilled worms of the "chonta" locally known as "chontakuru".
Day 5: Wayusada Ritual – Departure from the lodge 
To end your adventure with a cherry on top, take part on the optional "wayusada" ritual, wake up at dawn around 4:30 am and share the sacred "wayusa" with a kichwa family, this is a way to pass their ancient knowledge to the new generations, here you will also share traditional chants and have the chance to "interpret dreams" with the wisest "mamakuna" of the community, a truly mystic experience.
Then head back for breakfast, while the staff handles your luggage for your return to the town of Coca, onboard comfortable motor boats for the last chance to appreciate the Ecuadorian rainforest landscape until you reach "La Mision" river port. A flight back to Quito follows.
Napo Cultural Center 2020 Rates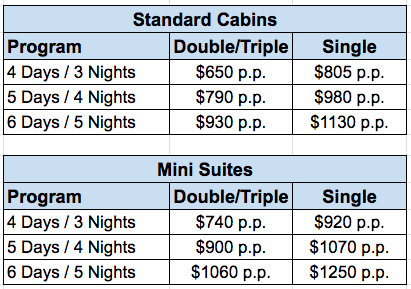 Rates Include:
River transportation to Coca –Napo Cultural Center-Coca
Accommodation in Napo Cultural Center
All meals
Entrance to Yasuni National Park and parrot clay licks
Community and naturalist bilingual guide
Impermeable poncho and rubber boots
All excursions and activities like program detail
Rates do not include:
256 USD per person (subject to change): Air tickets
Quito-Coca-Quito with assistance from the airport in
Quito on (help with check-in and land transfers in Coca)
Beverages, tips, and other non-specified requirements (laundry and internet)
Additional Information:
Important Instructions:
Always ask any question that you might have and follow your guide's instructions.
Walk only on the marked paths, don't try to wander by yourself, because you could get lost in the forest.
Don't throw any kind of garbage in the path; always use the garbage cans.
Please don't feed or touch any animal, don't cut or step on the plants.
Use headphones, when listening to music in your personal devices.
Don't use your camera flash.
Hunting and fishing are not allowed.
Taking videos and photos of the community homes is not allowed. (Ask for permission in advance to coordinate with our staff).
Important Information:
All prices are per person, valid through 2019 and are quoted in US dollars.
Children under 5, hotel free in the same room as their parents,  plus airfare to be paid.
Children under 11 years and 11 months get a 30% discount on hotel prices in the same parent's room and airfare.
NWC recommend for families with children to take a private guide
Please note that air rates are subject to change without previous notice.
Departures available any day of the week, except Sunday.
Additional Days:
Optional excursions such as hikes through different trails and forest types. Canoe rides, exploring deeper areas of surrounding creeks with more wildlife possibilities, additional mammal clay lick excursion, handicraft workshop with the local community among other options are available.
Access to the Napo Cultural Center
---
Departing from Quito, a 30-minute flight to Coca over the eastern Andes mountain range. After landing, about mid-morning, 5 min transfer will take you to "La Mision" Port, where you will embark onto a comfortable covered motorboat. Here you start a canoe ride along the Napo River for about 2 hours, box lunch and coffee is provided in route.
Packing List
---
Gear
Binoculars for wildlife viewing 8×35 mm*
Camera/video gear
Zip Lock bags to cover optics or other gear
Extra batteries/film/video tapes as appropriate.
Clothing
Two or three pairs of lightweight long pants.
Two or three long-sleeved lightweight shirts.
Two or three T-shirts.
One or two pairs of shorts (mostly for around the lodge).
Lightweight sweater or jacket.
Raingear (if you prefer not to use the ponchos provided).
Three or four pairs of long cotton socks
One pair of sneakers and/or hiking boots.
Sandals (Teva type or similar for around the lodge).
A hat for sun protection (that will stay on during windy boat rides).
A good pair of sunglasses
Essentials
Small day pack for excursions
Insect repellent. No inflammable sprays as they are not allowed by the airline.
Sunscreen with a high protection factor
Flashlight or headlamp bright enough for use.
Personal toiletries and medications (carry medications with you when arriving and leaving the lodge).
Original passport (always good to have while traveling).
Credit card for bar bills and cash (US$) for handicraft purchases.