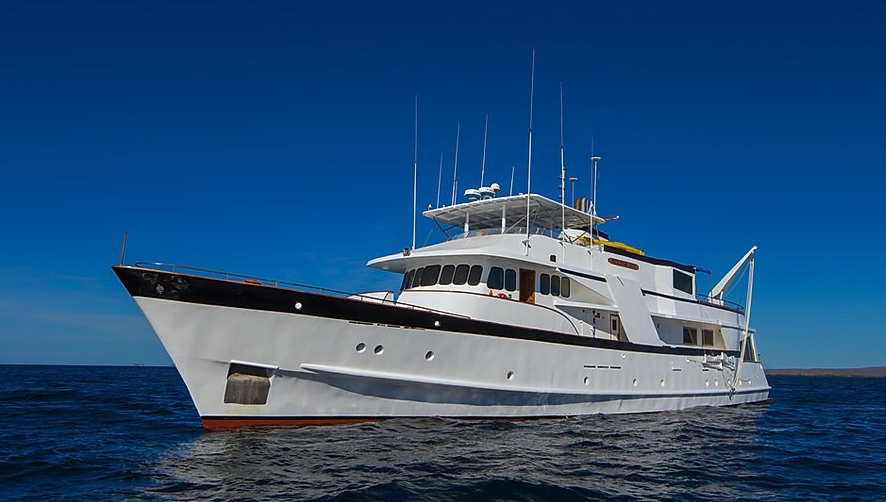 Fantastic Galapagos 8-day itineraries
The Beluga is a great option for your Galapagos trip because it boasts fantastic Galapagos 8-day itineraries. If you want to experience the sought after Western Islands of Isabela and Fernandina but don't or can't spend a week in the Galapagos you can opt for a 6-day itinerary that will take you to all the highlights in the Western Islands.
Luxury, comfort and exceptional itineraries await
Embark upon the spacious and comfortable "Superior First Class" motor yacht… The M/Y Beluga!
With panoramic windows in the salon and great deck space, the Beluga is a fantastic way to cruise the islands in speed and style.
The Beluga is outfitted exclusively for the Galapagos Islands and has been awarded the Smart Voyager certification for adhering to conservation standards. Beluga also complies with all international maritime regulations and is SOLAS certified.
Friendly staff and top guides
A friendly and highly professional crew of 10; Captain, multilingual naturalist guide, cook, 2 engineers, barman, and 4 sailors will attend you while onboard. The guide will accompany you to all visiting sites within the National Park, providing a wealth of knowledge about the geological and human history of the Islands, and of course about every aspect of their intriguing flora and fauna.
What does a Galapagos experience onboard the Beluga entail?
Great service onboard and a friendly knowledgeable staff
Tasty local and international food
Great guides
Exclusive itineraries with isolated destinations
Lower deck cabins with portholes
Upper deck cabins with big windows
The best Galapagos 8-day itineraries
Guest accommodation:
8 Double cabins each with a private bath. Hot/cold water showers. Security safe in each cabin
Cabin Distribution and bed arrangements:
Lower deck: Cabins 1-5

1 Triple with 2 lower and 1 upper
2 Twin with 2 lower beds
2 Double with 1 matrimonial

Main deck: Cabins 6-7

2 Twin or matrimonial with 2 lower that can be joined

Upper deck: Cabin 8
Perfect for Galapagos Adventurers
Beluga is perfect for Galapagos adventurers who are looking for the best guides and itineraries in the Galapagos Islands and a bit more comfort.
When you travel aboard the Beluga you will enjoy:
Comfortable cabins with a private bathroom and A/C
Storage space
Bedside drawers with charging ports
A chance to share a cabin with a fellow traveler of the same gender with no additional surcharge
Beluga itineraries explained
Beluga offers the options of a 4 day, 6 day and 8-day itineraries that visit unique visitor sites in the National Park; each of these is hand-picked, rich and varied and offers the opportunity to experience the Galapagos up close and personal with a small group led by a highly experienced naturalist guide.
The itineraries can be combined to form a 15-day itinerary that we highly recommend for those travelers that would like to have a complete, in-depth experience of the Galapagos Islands.
Connoisseur Tip:
The 8-day Itinerary – Fernandina, is truly exceptional and always in high demand. It visits the wonderful Western Islands of Isabela and Fernandina in style, but not without a previous stop at one of my favorite islands – Floreana. On the way back you get to visit Bartholomew Island where you can take in some of the best sights in the Galapagos a perfect selfie with Pinnacle Rock in the background!
Just like the caviar, the M/Y Beluga is truly exquisite…
Cachalote Itineraries
Beluga, rates, inclusions, exclusions, important info and specs
Beluga 2020 Rates
Rates Include:
All meals and activities throughout the cruise
Soft beverages (water, coffee, and tea)
Fuel surcharge
Bilingual national park guide
Kayaks
Snorkeling gear (mask, snorkel, and fins)
Occasional diving available
Rates do not Include:
Airfare from mainland Ecuador
Alcoholic beverages consumed onboard
$100 Galapagos National Park entrance fee
$20 Transit Control Card
Cancellation/medical insurance
Wetsuit
Gratuities
Important information:
Discounts: 25% discount over gross rate for children under twelve years old (one child per adult). This discount is not applicable over Christmas and New Years' departures.
New Year and Christmas departures: 6- day cruises departures not available during high season.
Single supplement: 50% increase for a cabin to yourself
Surcharges: A surcharge of US$200 NET per person is applicable during Christmas and New Year´s
Flight costs (not included in Galapagos cruise costs): Contact Galapagos Connoisseur for current rates for flights from Quito or Guayaquil to the Galapagos Islands.
Beluga is scheduled to operate in connection with AVIANCA airlines.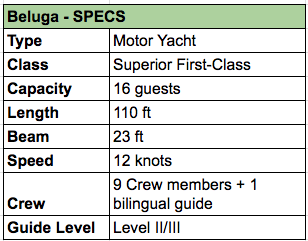 Beluga Highlights
Family friendly
Beluga has a cabin that can be used as a triple. It's perfect for a group of odd-numbered friends or a family of three.
Comfortable Social Areas
You will feel the sensation of space aboard the Beluga for kicking back and relaxing between your unforgettable visits on land. The lounge is quite inviting and offers a small library of Galapagos literature and a selection of games and easy access to the bar.
All around the wide decks, comfortable seating allows you to choose sunshine or shade for lounging and observation.
Tasty meals onboard the Beluga
Breakfast, lunch, and dinner are served on board the Cachalote Explorer. Meals blend Ecuadorian and continental cuisine and are served in the dining room. Coffee and tea are available on deck, cold drinks including beer and a selection of wine and cocktails you may purchase from a well-stocked bar. Refreshing snacks and fruit juice is also available when you return from your island visits.
Deckplans