The Best Amazon Rainforest lodge
The Suchipakari Lodge is the best and most complete Amazon Rainforest Lodge located close to Quito and Baños. Get a great introduction to the jungle at this new lodge offering in the Tena region of the Amazon in Ecuador.
Strategic location
Suchipakari Lodge brings you closer to the fascinating and surprising world of the Ecuadorian Amazon. Its strategic location in Puerto Misahuallí, Napo province, only four hours from Quito, allows visitors to discover the jungle in its entire splendor.
Amazon Rainforest Lodge close to Quito
You can arrive by private vehicle or bus. The best route if you leave from Quito is via Papallacta – Baeza – Tena – Archidona – Puerto Misahuallí – Pusuno Bajo. During the trip, you can stop to take pictures of the amazing landscapes. Upon arrival at Suchipakari Lodge, you will completely disconnect from civilization and immerse yourself in nature to experience new sensations.
All-inclusive Amazon lodge packages
Our all-inclusive packages allow you to make the most of an adventure in the Napo River and the biodiversity of its environment. All you need to do is decide how long you want the fun to last! Experience the lifestyle of our local community, learn about typical food, and Quechua language, hunting techniques, make pottery with natural materials and visit the amazing Cueva de Los Tayos.
Suchipakari Lodge activities
There are tons of great activities you can take part in when you visit the Suchipakari Lodge: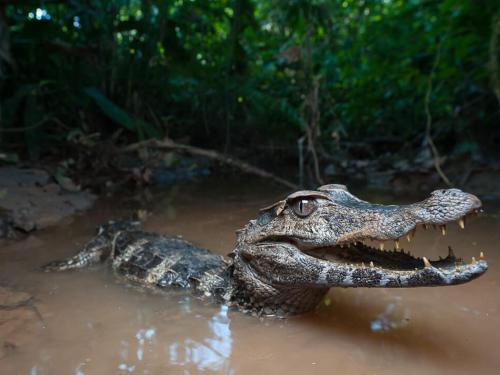 Observation Tower *new*
Forest Walks
Creek Paddling
Caiman Spotting
Bird watching
Night walks
Community visit
Shaman experience
Ayahuasca Ceremony
Oh… and if you want to have an out of this world spiritual experience, you must attend the Ayahuasca Ceremony. This is one of those activities that will convert your trip into an unforgettable one. The Ayahuasca is a sacred vine that has been used thousands of years ago by indigenous tribes with the purpose of reclaiming good energies and obtaining spiritual cleansing and healing through natural meditation. In this ritual, several personal revelations and visions will emerge, and processing this will help you achieve harmony and emotional balance.
You will not regret it!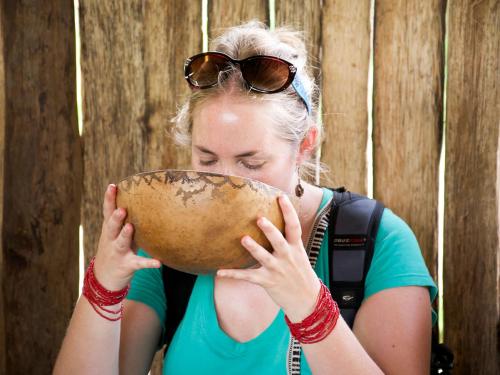 Suchipakari Lodge Accommodation
SuchiPakari Amazon Ecolodge, has 24 spacious superior rooms, including two Scenic Kichwa Cabins with a view of Caiman Lake & Roomy Family Suites for those who have brought their children along on their jungle adventure.
Amenities
A safety deposit box
Private bathrooms with hot shower
A private balcony with views of the surroundings
24/7 Electricity
Plenty of 120v outlets to recharge your gear
Screened windows
Ceiling fans
Connoisseur Amazon Tip:
Suchipakari is a great new Tena Amazon Rainforest lodge. It will provide a fantastic experience in the Amazon for hardcore adventurers and rookies alike. Its one of the only lodges to offer an Ayahuasca Experience, which is something many travelers want to experience at least once in their lifetime. Tena is a great introduction to the Amazon Rainforest in Ecuador, very accessible, and will provide great comfort and service while you disconnect from modern city life and breathe in and take in the pristine air and sights of the Amazon Rainforest!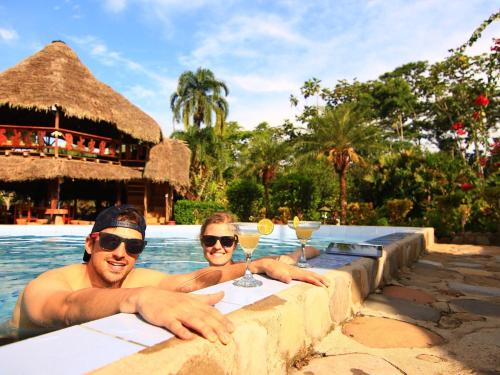 Connect with mother Earth and disconnect from the everyday hustle and bustle in Suchipakari!
Suchipakari Lodge Information
Suchipakari Tena Lodge Activities
---
Bird Species: 262  |  Amphibian & Reptiles: 162  |  Mammal Species: 173
---
Rainforest Treks
---
Explore incredible primary rainforest treks. At Suchipakari, there are a number of treks (with varying levels of difficulty) that can last anywhere from an hour-and-a-half all the way up to four hours, taking you through the thick and humid jungle, crossing muddy paths and encountering all sorts of wildlife. Creep along the jungle paths through the spotlights of sun filtering down through the canopy, careful not to tread on an army of marching ants. SuchiPakari's native guides will show us the abundance and biodiversity of flora, their practical use in everyday life as well as the medicinal properties of several plants, trees, and insects and the fascinating symbiosis between them in the Amazon rainforest.
---
Rayucocha Waterfall
---
The excursion to the Rayucocha waterfall is an adventurous hiking activity. Located at approximately 45 minutes driving distance from Suchipakari Amazon Lodge. Here we will hike across, through and alongside the river, and on the way down through primary Amazon rainforest. An expert guide will lead the way and take advantage of any opportunity to teach us about the wildlife and nature we encounter. We will surely come across many interesting plants with poisonous or medicinal properties. After arriving at the waterfall we will take a break and enjoy a boxed lunch. The final cascade provides an opportunity to take a refreshing shower.
---
Animal Reserve "AmaZoonico" 
---
You'll never get as close to a jaguar, ocelot, or taper as you will at AmaZoonico, a rescue sanctuary for all Amazon creatures. Led by volunteer guides, you'll hear the incredible and sometimes tragic stories of the residents of the center: from caiman, a wide variety of monkeys, turtles, capybara, toucans, parrots, macaws and everything in between, who struggled to readapt to the wild after they were taken by poachers, sold on the black market, and forced to live domestic lives. By visiting AmaZoonico you are helping to guarantee the protection of these creatures.
AmaZOOnico is not a zoo but a rescue center for animals of the Amazon in Ecuador
---
Whitewater Rafting
---
This Whitewater Rafting trip begins in Talag, Napo. Where our expert guide after helping you with all of your equipment, will give you a safety orientation and paddle practice before the adventure begins. Once on the river, participants will paddle for 4 1/2 hours along the 12-mile stretch with a stop for Lunch halfway down the river to restore your energy for the latter half of the paddle. At the end of the river section, your private transportation will be waiting for you and will take you back to Suchipakari. Additional rafting options include various sections of the Misahualli, Jondachi, Anzu, and Hollín rivers. Difficulty:  Depends on water lever but most are grade IV or V when they have sufficient water to paddle.
---
Chocolate Experience
---
In this 1.5 hour "hands-on" program, you will have the opportunity to learn interesting aspects of cocoa and chocolate, from its origin and history, participating in all the production process, from the harvesting of the fruit, drying and grinding of the seed, also the developing of the traditional drink of our ancestors, and of course, enjoying a bar of high-quality organic chocolate. Enjoy this journey through the history, culture, traditions, and the flavor.
---
Ombuni Waterfall / Monkey's Beach / Kichwa Community Visit 
---
Ombuni waterfall is the first in an attractive series of waterfalls, a magical place with a rock platform in which the water has cut a natural channel and shaped along its sides a rock formation full of crustacean fossils. Located near Misahualli, you can enjoy the monkey's beach, an important source of the Amazon. Then in the afternoon a visit to the Native Community.
---
Rio Blanco Waterfall / Cultural Visit / Kichwa House
---
Río Blanco Waterfall: the jungle is for everyone, so if you want to visit a waterfall in the middle of the jungle, with a more quiet but interesting walk, this place will be your favorite. In the afternoon we will visit a Kichwa family and practice the use of the Cerbatana(Blowgun).
---
Indigenous Family Visit
---
On this visit we learn about traditional Kichwa culture. Through an unobtrusive dialogue, we learn about their day-to-day lives. A local host shows us how to make chicha, a typical beverage (tasting is optional!), and demonstrates the spiritual cleansing rituals still practiced today throughout the surrounding community. Finally, we participate in a blowgun target-shooting contest – but don't expect to beat the natives! It's an intimate, unique experience, in which we discover both the differences and similarities between our own and other cultures.
---
Ceramics Class
---
It's almost hypnotic, watching the indigenous woman molding clay from the riverbed into a dainty little bowl. In this encounter, a local will demonstrate how their community creates crockery from natural materials found in the forest, and the techniques used to seal and decorate them. There's also an opportunity to purchase these lovely items for yourself.
---
Gold Panning
---
One of the things that most attracts adventurers to South America hundreds of years ago was the promise of gold. But where was this gold to be found? Back then and still now the Napo River has that very precious metal in its sediment, and locals, using a painstaking technique of sifting and washing, spending hours filtering through the stones on the banks of the river, make a living from extracting and selling it. Just a short canoe-ride from Suchipakari Lodge you can observe them doing so, using the same techniques of centuries past.
---
Birdwatching
---
We love having birdwatchers at the lodge, and here are just a few things we do to make your birdwatching experience unforgettable: Native guides from local communities: they may not speak much English, but they know the local names of all of the birds, and better yet, where to find them! 
(262 Bird List Species Registered)
---
Caiman Spotting 
---
An expedition to look for caiman on the lake is perhaps the most magical experience of an adventure already filled with wonder. Under the cover of dark rivers. The first thing you see is the ripple in the water before a pair of be-spectacled eyes rise up from the murky depths and stares straight into your own. In no time at all more and more pairs pop up: the family of caiman has arrived. While safely positioned on a wooden jetty, your guide will summon the reptiles with some meat and you are free to observe the group, sometimes of around 15, ranging for full-sized father to weeks' old baby.
---
Night Treks
---
When darkness falls, Grab your flashlight or headlamp and join your guide to see the forest come alive in the darkness.
---
Massages
---
Take a moment for yourself to indulge in a relaxing or invigorating massage, taking advantage of the expertise of our staff, and return from your vacation glowing like a firefly with specialized skin treatments.
Extra charges apply. Please book in advance to guarantee your massage.   
---
Exploring Caves and Rivers 
---
Inside incredible paths to discover the inside of the Earth and explore the paths that nature took millions of years to create, between the rock formations. Surrounded by ancient rock formations, among stalactites and stalagmites beside underground rivers inside the spectacular caverns and caves of The Jungle
---
Biking Tours
---
Enjoy Biking trails at their best; traversing them on a mountain bike while following your guide. You will be able to see amazing scenery, breathtaking viewpoints, secluded beaches, and many river crossings.
Suchipakari Tena Lodge – 5 days/4 nights
---
Below is an example of the 5-day full program at the lodge. You can choose to visit Suchipakari for 3,4 and 5-day programs. When you arrive to the lodge you will plan your stay with the guide.
---
Day 1: Amazon (Misahualli Zone) 
---
Upon arrival the lodge staff will be waiting for you, to help you with your bags. Once you arrive at the lodge, you will be welcomed with a Cocktail and our lodge manager will give you a short orientation talk about the lodge and its facilities. Then you will be shown your room and we will go to the Restaurant to start with the Welcome Lunch. After lunch, you will wear your rubber boots and go hiking with our native guide. He will share traditional knowledge of local medicinal plants such as dragon's blood, ginger, guayusa, and straw used for instruments, costumes, and construction for the development of the community. You can swing on vines like Tarzan and take a photograph at The Great Ceibo, the Giant Amazonian tree. During this trip, you will also see many species of birds, including woodpeckers, kingfishers, sandpipers, toucans, Orioles and the famous cacique. We will then return to the lodge to get our bathing suits, towels, lifejackets and inner tubes for our late afternoon Tubing in the Pusuno River. We return to have dinner, and your guide will explain the next day's activities.
---
Day 2: Rayucocha Waterfall  
---
In the morning after our breakfast. You will put on your rubber boots to head to a waterfall hidden deep inside the rainforest. We will take a walk to the parking lot to cross the river on paddle canoes, then we will take a taxi for 45-min. Then we take a 20-minute walk to the Quichua bridge and arrive at the Stone Plate. During this walk through the primary rainforest, we will spot several species of flora and fauna. With a bit of luck, we will be able to observe monkeys by the trees and a large number of birds, which will be detailed by our native guide. You will enjoy a box lunch, after this, you move to the viewpoint of the Rayucocha waterfall located in one of the buffer zones of the National Park Sumaco – Napo Galeras. You can go Rappeling (42m. height) (Optional, cost $ 20) or skirt behind the waterfall, bring your bathing suit to enjoy a refreshing bath. The beauty of the environment, which mixes with the sounds of the jungle with the force of falling water, make the place a spectacular site. After we return to the lodge, (optional return by bicycle, cost $ 15 per person) Traditional Dinner and Campfire
---
Day 3: Amazon / Animal Reserve
---
After Breakfast, a short 20 minutes walk to the port in the Napo River will take you onto a comfortable covered motorboat. Here we start a boat ride along the Napo River for approximately 1 1/2 hours. Some aquatic birds can be spotted on the way. Behind the shores of one the beaches along the River Arajuno is the famous animal refuge known as AmaZoonico. This refuge was founded for the purpose of protecting and taking care of the native and wild animals of the area that have either been injured, mistreated or been confiscated and handed over because they were being smuggled. This is a great opportunity to observe how it is exactly that these creatures live in their natural habitat, something which is rather hard to do given how elusive these creatures are in the wild. Once this visit is over, you'll return to Suchipakari aboard a canoe. Optional: Ceramic Workshop Tour in Punta Ahuano Kichwa (Admission: $ 4 USD) Visit a Kichwa Pottery Workshop  in Punta Ahuano Optional: Biking. For those who require more physical action, bicycle rides through jungle trails of different levels of demand. (Early booking) Special farewell dinner
---
Day 4: Whitewater Rafting Adventure
---
After Breakfast, transfer by car. This Whitewater Rafting trip begins in Talag, Napo. Where our expert guide after helping you with all of your equipment, we will give you a safety orientation and paddle practice before the adventure begins. Once on the river, participants will paddle for 4 1/2 hours along the 12-mile stretch with a stop for Lunch halfway down the river to restore your energy for the latter half of the paddle. At the end of the river section, your private transportation will be waiting for you and will take you back to Suchipakari Additional rafting options include various sections of the Misahualli, Jondachi, Anzu and Hollín rivers. Difficulty:  Depends on water lever but most are grade IV or V when they have sufficient water to paddle.
---
Day 5: Amazon Chocolate Experience / Farewell to lodge 
---
After breakfast, discover why Ecuador is the best place to enjoy chocolate. Learn about this ancestral culture of production of fine aroma cocoa. Find out how cocoa grows, how its cultivated and harvested and how it eventually is turned into the most coveted treat in the world. Then, learn about the native Quichua communities of the east, their customs, and way of life. As well as the way in which they coexist with the forest that is their source of survival. We will observe the trees and medicinal plants they use and the utility they give to each of them. In addition, you can observe how local women make their naturally fermented drink ¨La Chicha de Yuca¨. Fishing and panning for gold are other local customs that will be explained, in this interesting visit to one of the communities that live on the banks of the Napo River. Check out from the lodge and continue to the city of Tena. End of our services.
Suchipakari 2022 Rates
Rates Include:
Transfer Tena – Suchipakari – Tena (14:00)
Taxes
Room accommodation with a Private bath, hot water (DBL / TPL / CDPL).
All meals (starting with lunch on the first day to breakfast on the last day)
Activities, tours, motorized canoe river transport as per itinerary.
Equipment: Life jackets and rubber boots (Max # 44).
Certified bilingual guide (Spanish / English)
Purified wáter unlimited
Hotel Facilities.
Check-in From 13H00 to 18H00, Check-Out until 12H00
Footpath Access to walk
Transportation according to the itinerary
Rates do not include:
Private Transfer to Tena and return ($ 70 USD per way per person)
Adventure Sports: Rappelling ($ 20) | Kayak ($ ​​30) | Rafting ($ 70) | Bicycle ($ 20)
Tips for the Staff
Personal Expenses, alcoholic or bottled drinks, extras.
Additional Information:
Important Information
Senior Citizens Discount: 20 %
Child Discount: (1 – 4 years old FREE)
Extra Activities: Rappelling ($15) | Biking ($15) | Kayaking | Rafting | Caverns
Access to Suchipakari
---
Bus Ride From Quito to Suchipakari:
Catch a bus at the Quitumbe Terminal.  (located in the South of Quito) buses leave every hour starting at 6:00 am. The trip takes 4 hours to reach the City of Tena. From Tena to Suchipakari you can take a taxi ($20 USD) or a bus to Misahualli and then a taxi ($10 USD) Bus companies: (Quito-Tena): Amazonas, Pelileo, Baños and Expreso Baños (Tena-Misahualli): Cooperativa Jumandy Duration: (Tena-Misahualli): 1 hour Cost: (Quito-Tena): $8 USD per person
---
Shared Taxi From Quito to Suchipakari
Departures any day of the week. Departure time: 5:00 am / 5:00 pm (with previous confirmation) Cost per person: $40 USD
Suchipakari Packing List
---
High socks (2 pairs per day) that do not slip easily inside rubber boots.
Sunglasses + hat for sun + sunscreen
Walking shoes or running shoes + strap sandals
Lightweight, long-sleeved, easy-drying t-shirts
Swimwear
Lightweight quick-drying hiking pants
Insect repellent
Flashlight (optional)
Personal first aid kit
Comfortable luggage to carry