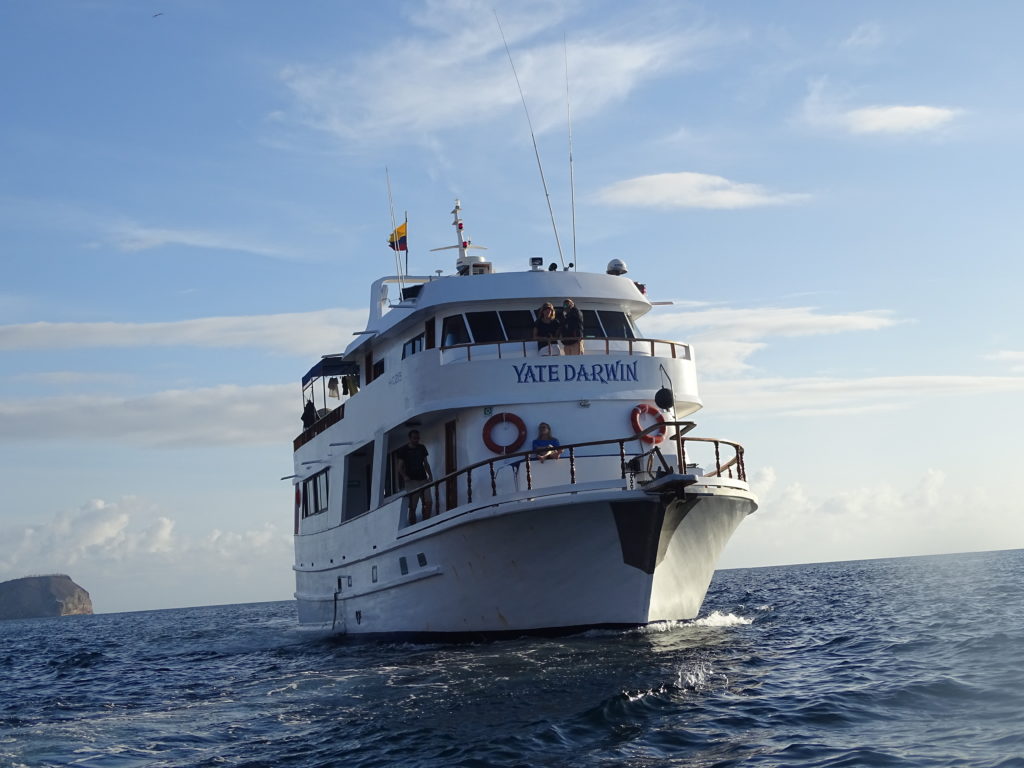 The Cheapest Galapagos Cruise
Darwin Yacht is the cheapest Galapagos cruise option. I usually don't like to use the word ¨cheap¨because it has a bad connotation. Nevertheless, I think ¨the cheapest¨does describe the Darwin yacht adequately. You get what you pay for onboard this yacht. I´ve had plenty of clients that have opted to take a trip to the Galapagos onboard the Darwin and most have had a good experience. They mention the boat is adequate but they do enjoy the activities on the islands and the Galapagos Islands as a whole.
Budget-friendly Galapagos Cruise
At the end of the day, the real reason to book Darwin is its low price. But that does not mean it will not provide a good experience in the islands, the Galapagos Islands never disappoint. You have access to some pretty neat itineraries on the Darwin. So, if you are a budget-friendly traveler, a backpacker, or simply someone that does not care much about luxurious accommodation the Darwin is your perfect choice!
Darwin History
The Darwin yacht was built in Puerto Ayora, in the Galapagos Islands in 1995. Boasting more than 20 years of experience cruising the Enchanted Islands, Darwin is a great choice for those seeking adventure at a convenient price point.
What does the Darwin Budget-Friendly Galapagos cruise entail?
All meals included
Certified bilingual guide
Comfortable accommodation
Social areas to enjoy the Galapagos landscapes
Cabin configuration
Darwin yacht has 8 double cabins with air conditioning, a private bathroom, and hot/cold water. Guests can cruise the islands comfortably in eight ample double rooms, equipped with air-conditioning, private facilities, and hot/cold water.
CABINS # 1 & 2:
Double cabins with berth, private bathroom, hot/cold water, and air
conditioning. The rooms are located on the UPPER DECK.
CABINS # 3 & 4:
Double cabins with berth, private bathroom, hot/cold water, and air
conditioning. The rooms are located on the MAIN DECK.
CABINS # 5 TO 8:
Double cabins with berth, private bathroom, hot/cold water, and air
conditioning. The rooms are located on the LOWER DECK.
Onboard the Darwin you will enjoy:
Double cabins with bunk beds
Bright cabins on Main and Upper deck with sea view windows.
En suite air conditioner
Storage space
Private bathroom
Darwin Itineraries explained
The Darwin offers two types of itineraries; Adventure and Discovery itineraries. The Adventure itinerary offers a choice of 8,5 and 4-day itineraries, visiting the Western and Central islands. The Discovery itinerary has a choice of 8,7,5 and 4-day itineraries, visiting the Southern and Central Islands.
Adventure Itinerary
During the 8-Day Adventure itinerary you will first visit San Cristobal with its great highlights:
Pitt Point (Great trek and chance to spot 3 types of boobies).
Kicker Rock (Amazing landscape and snorkeling site).
Witch Hill (Beautiful beach and great snorkeling opportunity).
Lobos Island (Snorkel with playful sea lions).
After San Cristobal you will head to Santa Cruz where you will visit the renowned Charles Darwin Research Station for a chance to mingle with Giant Tortoises and learn a bit more about the history of the Galapagos Islands. Next stop is Isabela island. You will visit Isabela Island where you will head to the Giant Tortoise breeding center, wetlands and Flamingo Lagoon.
At the end of the Adventure 8-Day itinerary, you will return to the central islands of the archipelago to visit Rabida and Santiago island.
Discovery Itinerary
The Discovery 8-day itinerary is my favorite aboard the Darwin yacht. You will head to Floreana and Española and get to visit more iconic Galapagos sites.
In Española expect great landscapes, sea lions, great snorkeling and a chance to spot the giant albatross take off a cliff.

Floreana island is one of my favorite islands in the Galapagos archipelago. Tons of wildlife and the best snorkeling site when you head to the Devil´s Crown.
You will also visit Bartholomew island where you can take the quintessential Galapagos picture with Pinnacle rock in the background. Santa Fe gives you the chance to spot the endemic Santa Fe land iguana.
The shorter itineraries do either the Adventure or Discovery itineraries on less days.
Connoisseur Tip:
I have always said that the best itinerary onboard the cheapest Galapagos cruise, the Darwin, is their Discovery 8-Day itinerary. You get to visit great islands and the experience is excellent. If you don't have a week to travel to the Galapagos you can opt for the shorter 5-day Discovery itinerary where you will still visit Española and Floreana and get to snorkel at the Devil´s Crown.
Darwin Yacht Itineraries
Darwin Yacht, rates, inclusions, exclusions, important information, and specs
Darwin Yacht 2020 Rates

Rates Include:
All meals
Transfers in the islands
All shore excursions with an English speaking naturalist guide
Water, coffee, and tea
Rates do not include:
Airfare from mainland Ecuador
$100 (Subject to change) Galapagos National Park entrance fee
$20 Transit Control Card
Snorkeling Gear
Wetsuit
Bottled beverages
Gratuities
Cancellation/medical insurance
Isabela fee (currently USD 20pp)
Rent Horses (120p.p)
Ferry canal $1
Important Information:
Upper Deck surcharge: $170
Main Deck surcharge: $120
Children discount: 10%
Snorkeling equipment and Wetsuit rental information:
Snorkeling equipment 8 days- $25
Snorkeling equipment 7 days- $20
Snorkeling equipment 5 days- $15
Snorkeling equipment 4 days- $15
Wet suits 8 days-  $30
Wet suits 5 days-  $20
Wet suits 4 days-  $20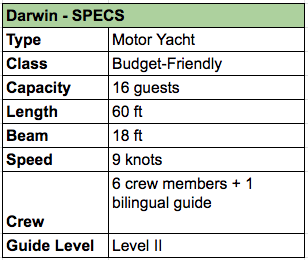 Social areas aboard the Darwin Yacht
A spacious living room, a well-stocked bar, sundeck, and inviting dining room where you will enjoy tasty local and international cuisine.
You will be happy to make the M/Y Darwin your home away from home while enjoying the Galapagos Islands with great service on board.
Deckplans