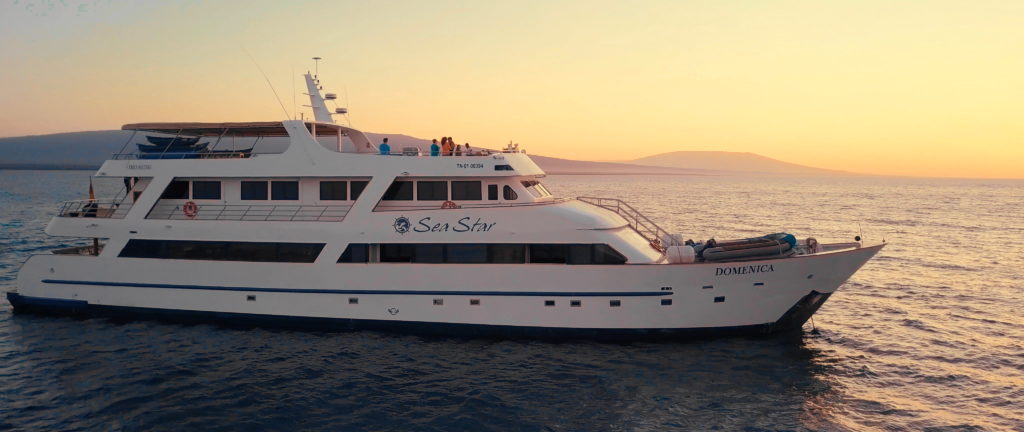 The Perfect Galapagos First-Class Cruise
The Sea Star Journey is the perfect Galapagos First-Class cruise. It combines a contemporary design, privacy, and comfort all within the marvelous setting of the Galapagos Islands.
Expect Gourmet Food
Local and International dishes – especially designed by our chef – are served in the cozy atmosphere of our dining room.
All-inclusive Cruise
Snorkeling equipment and kayaks are available too without any extra charge.
Safety and Eco-Friendliness
Galapagos Sea Star Journey complies with local and international safety regulations. In addition, we implement sustainable practices throughout our journey to protect the fragile environment of the Galapagos archipelago.
Accommodation aboard Sea Star Journey
The Galapagos Sea Star Journey has a capacity of up to 16 passengers, featuring seven spacious Galapagos Suites – Matrimonial (approx. 25,2 m) and one Sea Star Suite (approx. 35,2 m) equipped with panoramic windows to enjoy the wonderful landscapes of the islands. These come with a private bathroom, hot/cold water and air conditioning (with independent controls). Twin beds (or one faux queen bed) and connected suites are available for families.
Upper Deck
The Galapagos Sea Star Suite is located on the Upper Deck. This cabin is like having your own apartment on the Galapagos Islands with a King size bed. Some of the cabin´s features are large and panoramic view windows, a large sitting area with desk, a comfortable sofa bed for triple accommodation, perfect for children, and a beautiful private bathroom
Main Deck
The main deck twin suites on the main deck have a balcony, and the others on the upper deck are interconnected, so they are ideals for families. All the suites are equipped with panoramic windows to enjoy the landscapes of the islands, private bathroom, hot/cold water, air conditioning with independent controls, and safe box.
Matrimonial Suites are on the main deck. These suites now offer a balcony for guests to enjoy the Galapagos landscape from the privacy of their room. Each cabin has a mini-fridge, safe box, and independent A/C. Also guests will enjoy biodegradable toiletries from the Ecuadorian Amazon (Chankuap Foundation) as a way to minimize our impact on the fragile ecosystem of Galapagos. Housekeeping service is available when you are out on island excursions, so your cabin will be carefully tended every day.
Sea Star Journey itineraries explained
Regarding itineraries, the Sea Star Journey offers three itineraries:
6-Day A Itinerary
The 6-day A itinerary will have you visit 2 of my favorite and most sought after islands in the the archipelago – Española and Floreana. In Española you will be able to swim with sealions, hang out with blue-footed boobies and see how the enormous Galapagos Albatross takes off. Truly a great itinerary!
5-Day B Itinerary
This shorter 5-day itinerary will take you north to the wonderful island of Genovesa also known as ¨bird island¨. You will also visit Bartholomew Island where you will be able to spot penguins and take the quintessential Galapagos pic with Pinnacle rock in the background. On top of all these fantastic visitor sites you will visit Santiago Island great for wildlife and snorkeling.
6-Day C Itinerary
The 6-Day C Itinerary of the Sea Star Journey is a perfect itinerary. You get to visit the sought after and renowned Western Islands in style. Usually Galapagos cruises visit the Western Islands on 8-day itineraries. Highly recommended Galapagos itinerary!
Sea Star Journey Itineraries
Sea Star Journey, rates, inclusions, exclusions, important info and specs

Rates Include:
All transfers in Galapagos
Matrimonial/Twin cabin accommodation with private facilities
All meals, Water, Coffee, and Tea
All excursions as mentioned in the itinerary with English speaking naturalist guide
Snorkeling equipment
Kayak equipment.
Rates do not include:
Roundtrip flights to Galapagos
Galapagos National Park entrance fee (currently USD 100 pp)
Transit Control Card (currently USD 20 pp)
Wet Suit Rental
Soft- and alcoholic drinks
Personal expenses
Extras and Tips
Important Information:
20%Children Discount (under 12 years old)  (1 child discount per 2 adults)
75% Single Supplement
+30% Xmas and New Year Surcharge
Roundtrip flights should be purchased with the Seaman Journey if not a $100 USD penalty will be incurred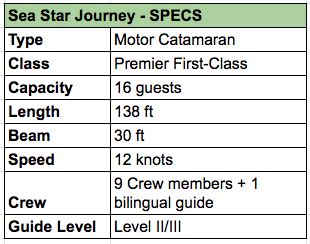 Well-appointed sundecks and bars make for the perfect First-Class Galapagos Cruise
Sundeck:
The external sundeck is divided into a covered area with sunbeds and a terrace that are well-furnished areas offering comfort and privacy. To check out the gorgeous ocean views with fellow shipmates, guests can spend some time on the Sea Star´s spacious sun deck. Whether they feel like getting a little sun on their vacation or want the best place to enjoy the gorgeous sunsets over the Galapagos Islands
Amazing Common Areas
Our yacht offers a large solarium with shaded and uncovered areas, two Jacuzzis, and comfortable sun loungers. Social areas include a Saloon, mini-library, and video library.
Deckplans