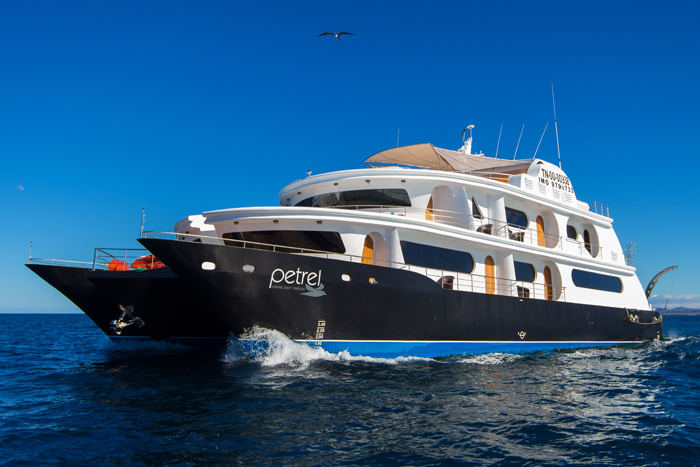 Deluxe Luxury in the Galapagos Islands
Cruising onboard a deluxe luxury Galapagos cruise is truly the best way to experience the Enchanted Islands!
The M/C Petrel is a beautiful luxurious modern catamaran, where you will experience total comfort as you travel from island to island and have close encounters with blue-footed boobies, iguanas, giant tortoises, whales, penguins, lizards and so much more!
Elegant, swift and silent at sea…
The M/C Petrel is one of the newest catamarans in the Galapagos. It was named after a sea bird common to the Galapagos, the Petrel like its namesake is; elegant, swift and silent at sea. Being a motorized catamaran means you will not have to worry about instability during your travels and will have more time to enjoy the spacious cabins, beautiful and intimate suites, comfortable lounge, and Jacuzzi on the sundeck.
Expect the best Galapagos guides
The remarkable Natural History of the Galapagos is emphasized aboard the Petrel, with hand-picked guides who are knowledgeable about biology and ecology and have great people skills.
Focus on quality onboard
With a Quality Control Manager on board, you are sure to have the best deluxe luxury Galapagos cruise experience. The Chef and Sous Chef take care of anything food-related and will prepare the most delicious local and international food for you to be delighted with.
What does a deluxe luxury Galapagos cruise entail?
Top-notch service guaranteed with a Quality manager onboard
Gourmet food made by a chef and sous chef onboard
Private balconies in all staterooms and suites
Handpicked decor
Ample and luxurious social areas and Jacuzzi on the sundeck
Kayaks on board
Accommodation aboard the Petrel
Main Deck:

2 Suites 463 ft²
2 DBL Staterooms 323 ft²

Upper Deck:

4 DBL Staterooms 323 ft²
1 Single Stateroom 151 ft²

Sun Deck: Jacuzzi, lounge chairs and alfresco dining option
*All staterooms with private balconies, private bathrooms, hot water, and air-conditioning. *Cabin size includes the private balcony.
Perfect for a group of friends
The Petrel is perfect for odd-numbered groups of friends. Groups of 3,5 and 7 travel companions can take advantage of the single cabin which does not incur a single supplement.
Onboard the Petrel Deluxe Luxury Catamaran you will enjoy:
Spacious double staterooms, beautiful suites, and one single cabin
Panoramic ocean view windows to fully enjoy the Galapagos
Private balconies in every cabin
Spacious closets and safebox
En suite remote-controlled air conditioner
Bedside drawers with charging ports
Beautifully decorated living room in suites
Writing desk
Petrel Itineraries explained
Onboard this deluxe luxury catamaran, you will have six itineraries to choose from:
Petrel 4-day B Itinerary
The 4-day B itinerary visits the renowned Southern island of Española where you will be able to swim with sea lions, watch the albatross takeoff, and enjoy great snorkeling activities.
You will also visit Floreana Island which is one of my favorite islands in the Galapagos. Here you get to learn a bit about Galapagos History and you will go snorkeling at the Devil´s Crown – the best snorkeling site in the Galapagos Islands.

Petrel 5-day B Itinerary
The 5-day B itinerary will take you on a tour of the NorthCentral Islands. On this itinerary, you will make a stop at Bartholomew island, here you can catch the perfect view of Pinnacle Rock, and take the quintessential picture of the Galapagos Islands. You will also make your way to Genovesa Island (aka ¨bird island¨) for a fantastic short Galapagos cruise experience.
Petrel 6-day A&B Itineraries
The 6-day A itinerary is a shorter version of the week-long A itinerary, its a good option for travelers that want to visit the Western Islands of the Galapagos archipelago but don't have a full week to spare. The 6-day B itinerary is a longer version of the 4-day B itinerary which adds some central islands such as Santa Fe and Santa Cruz.
Goldilocks effect
I've always thought that 4 and 5 day itineraries were too short and 8-day itineraries a bit too long, so having two 6-day options is great IMHO.
Petrel 8-day B Itinerary
The 8- day B itinerary combines both the 4 and 5-day itineraries into one week-long itinerary visiting plenty of Galapagos highlights.
Petrel 8-day A Itinerary
The 8- day A itinerary visits the sought after Western Islands in style! You get to visit Isabela and Fernandina islands, where you will find abundant wildlife and a guaranteed superb experience. When you return from the Westside you will visit the central islands of Santa Fe and Santa Cruz.
Connoisseur Tip:
Both week-long itineraries aboard the Petrel are fantastic. They are the classic itineraries that visit either the Western Islands or the North and Southeastern Islands. Either itinerary will provide a perfect Galapagos experience. If you don't have a week to spend in the islands, I would recommend the 6-day A itinerary which visits the islands of Isabela and Fernandina in style.
Follow the Petrel and get to know the Galapagos Islands in style, comfort, and luxury!
Petrel itineraries
Petrel, rates, inclusions, exclusions, important info and specs
Petrel 2020 Rates

Rates Include:
All visitor site excursions
All meals and accommodation during cruise
Regular soft drinks and juices
Champagne reception
Welcome courtesy
Galapagos National Park bilingual Guide
Use of snorkeling gear and wetsuits
Kayaks
Carbon Offset for your Cruise
Rates do not include:
Round-trip airfare Mainland Ecuador – Galapagos.
Galapagos National Park Entrance Fee – $100.*
Galapagos Transit Control Card – $20.*
Gratuities
Alcoholic beverages
Plastic bottled beverages
Important Information:
25% Discount for children under 12 years old (1 child per 2 adults).
Single supplement 50%.
Children 7 years and older are welcome aboard.
All prices are in U.S. Dollars.
All prices are per person, based on double occupancy.
Rates are per person
Social Areas aboard the Petrel
The dining room and Alfresco dining:
Onboard the Petrel, you will enjoy local and international gourmet meals prepared by a professional chef. You will have a chance to enjoy your meals outside (alfresco) or indoors in the luxurious dining room.
Lounge area:
Take a load off in the spacious lounge area on the main deck. The lounge features beautiful decor. It's also a great place to get a drink from the bar and where you will get your daily briefing sessions.
Sundeck:
Chillax on the well-equipped sundeck, which includes; an Al-Fresco dining option, a hot-tub which can fit up to eight guests and a Leo DiCaprio type feeling of being the "King of the World". Truly a remarkable trimaran inside and out!
Deckplans