Galapagos First-Class Experience
Seaman Journey is the premier Galapagos First-Class experience. It began sailing the Galapagos Islands in January 2008. It is a Boutique Yacht Catamaran offering superior comfort, size, style, and stability. Onboard, Seaman Journey, you will be able to choose from different itineraries that include amazing land tours on the most iconic islands in the Galapagos. On its diverse itineraries, guests will encounter many endemic species like Galapagos Giant Tortoises, Penguins, Land and Marine Iguana´s, Frigate Birds, Blue Footed Boobies, and much more!
Intimacy and camaraderie in the Galapagos Islands
During your cruise, you will enjoy well-furnished areas offering comfort and privacy. Galapagos Seaman Journey has a maximum capacity of 16 passengers allowing both intimacy and camaraderie at the same time. Onboard you will enjoy social areas for those who are looking for a quiet place to relax during their Galapagos trip with family and friends in the lazy mid-afternoon sun, or likewise after a busy day of swimming, snorkeling, kayaking, or walking.
Accommodation aboard Seaman Journey
Upper Deck
The upper-deck boasts two matrimonial suites. Suites are ideal for couples or honeymooners due to its queen beds. Suites include a private bathroom, hairdryer, and A/C. Seaman suites have the best panoramic views, for you to enjoy the refreshing and warm air of the Galapagos Islands.
Double suites can be converted into a triple by adding a sofa-bed. This option is recommended for small kids up to 12 years old.
Main Deck
The Galapagos Seaman Journey has 6 twin cabins located on the main deck.
These cabins offer great comfort with twin beds, a private bathroom, a hairdryer, a safe box, A/C, and table-lamps. The panoramic windows on the cabins offer you a fantastic panoramic view of the Galapagos landscape.
Seaman Journey itineraries explained
Regarding itineraries, the Seaman Journey offers two 8-day itineraries:
Itinerary C1 is a combined itinerary (A4 + B5) which covers the Southeastern islands of Floreana and Española and heads north to Genovesa as well.
Itinerary C – 8 days itinerary will take you to the Western Islands of Isabela and Fernandina in style.
Connoisseur Tip:
The good thing is that you have a choice between a longer 8-day cruise or short 4 and 5-day cruises. If you can spend a week in the Galapagos Islands I would suggest taking the C – 8-day itinerary, it will take you to the wonderful Western Islands and since it can´t be split into shorter itineraries you get an uninterrupted cruise. If you only have four days to spend on the Galapagos Islands I would choose the A-4 day itinerary which visits Santa Fe and Genovesa.
Seaman Journey Itineraries
Seaman Journey, rates, inclusions, exclusions, important info and specs

Rates Include:
All transfers in Galapagos
Matrimonial/Twin cabin accommodation with private facilities
All meals, Water, Coffee, and Tea
All excursions as mentioned on the itinerary with English speaking naturalist guide
Snorkeling equipment
Kayak equipment.
Rates do not include:
Roundtrip flights to Galapagos
Galapagos National Park entrance fee (currently USD 100 pp)
Transit Control Card (currently USD 20 pp)
Wet Suit Rental
Soft- and alcoholic drinks
Personal expenses
Extras and Tips.
Important Information:
20%Children Discount (under 12 years old)  (1 child discount per 2 adults)
75% Single Supplement
+30% Xmas and New Year Surcharge
Roundtrip flights should be purchased with the Seaman Journey if not a $100 USD penalty will be incurred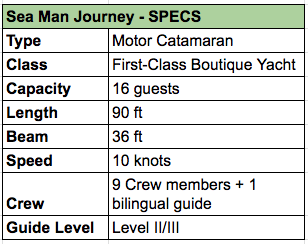 Well-appointed sundecks and bars make for a First-Class Galapagos Experience
Sundeck:
To check out the gorgeous ocean views with fellow shipmates, guests can spend some time on the spacious sundecks. Whether you feel like getting a little sun or want the best place to enjoy the gorgeous sunsets over the Galapagos Islands, the sundecks are the best place to be.
For adults who want to relax and kick back, Seaman offers a great bar and lounge area where you are served by the bartender who will be happy to attend to all your needs and desires whilst you relax.
The dining room:
The dining room and the big saloon are on the main deck, specially designed to offer a great ambiance to the passenger, both for a marvelous meal or a wonderful chat with shipmates at the end of the day. The chef is delighted to mesmerize your tastes with his dishes. Prepared with local and fresh ingredients, able to please the most demanding palettes.
Lounge area:
Take a load off in the spacious lounge area on the main deck. The lounge features artistic decor. It's also a great place to get a drink from the bar and where you will get your daily briefing sessions.
Deckplans