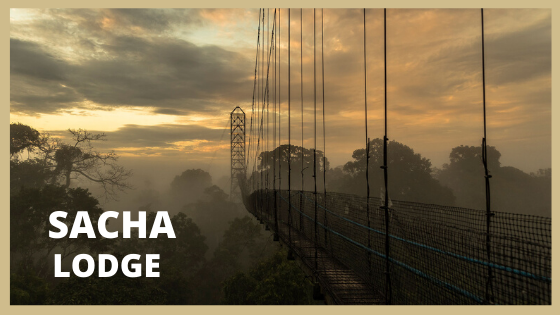 The best way to visit the Amazon
Imagine walking across a bridge suspended over the rainforest canopy, paddling through creeks in search of monkeys and river otters, climbing to the very top of a giant kapok tree, or swimming in a black-water lake. Threading your way through trees in search of the world's tiniest monkey. You'll find these exclusive experiences when you visit the Amazon Rainforest at Sacha Lodge.
Exclusive activities at Sacha Lodge
Adventure is a given at Sacha Lodge. You'll become an expert at hopping in and out of canoes, and will come to love the surreal peacefulness of paddling down streams through the virgin wilderness. Expedition groups are never larger than six and are always accompanied by a naturalist and local guide. Sacha Lodge makes an effort to match guests with others of similar ages, interests, and abilities in personalized expedition groups.
There are tons of great activities you can take part of when you visit the Amazon at Sacha Lodge:
Canopy Walk
Kapok Tower
Yasuni Parrot Lick
Butterfly House
Forest Walks
Creek Paddling
Caiman Spotting
Bird watching
Lake Pool
Fine dining in the midst of the Amazon
Enjoy breakfast and lunch buffets mixing international cuisine with traditional Ecuadorian dishes are served in La Balsa.
An a la carte dinner is served in the restaurant, bringing fine dining to the jungle. Menus change daily, and will often include the popular paiche, a meaty white fish found in the Amazon region – with the all-important Green Seal of responsible fishing.
Vegetarians are more than welcome, and our chefs will be happy to cater for any special needs you may have upon request.
At least one evening during your stay we will hold a barbecue on the lakeside Balsa, with grilled fish, meat and vegetables.
The Restaurant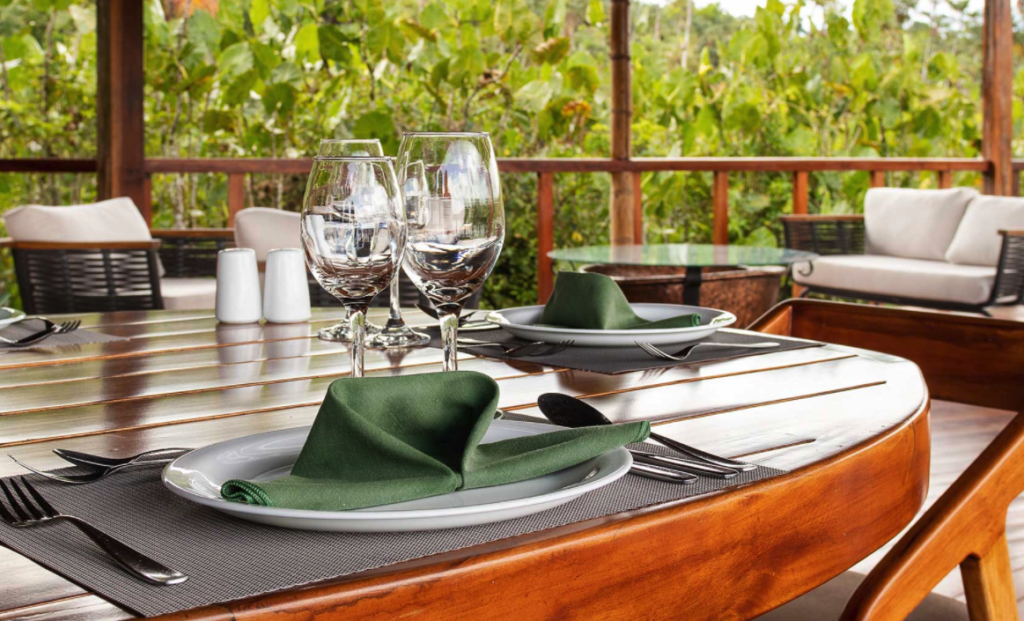 The rustic, airy restaurant offers a relaxed atmosphere for dinner with its windows open, allowing the cicadas evening song to circle. An a la carte dinner is served in the restaurant, bringing fine dining to the jungle. Using fresh and sustainable products, Sacha Lodge chefs prepare meals to delight the tastes of a world traveler while satisfying the appetite of an adventurer!
La Balsa Al Fresco Lounge
Named after the Spanish word for a "raft", the Balsa is at the heart of the Sacha Lodge experience: a covered alfresco lounge area with a breathtaking view over the shimmering Pilchicocha Lake. It is the perfect place to read a book with a glass of wine, spot birds, caiman, and giant otters, or to watch the crimson sunsets and tremendous thunder storms.
Connoisseur Amazon Tip:
The Sacha Lodge has rivers so wide you can barely see the other side; supersized kapok trees and electric blue morph butterflies; tiny insects that roar and gentle giants who only venture out at night. Each acre of these forests along the banks of the Napo River has more biodiversity than almost the whole of North America, yet the thrill of spotting tamarind monkeys, giant otters, toucans, boa constrictors, caimans or owls never diminishes. Here, dark water creeks are the canals that lead you further away from civilization and deeper into the wild.
The Sacha Lodge mixes luxury and comfort with adventure like no one else, will provide top-notch guides, and has some of the finest dining experiences in the entire Amazon Rainforest!
Come and enjoy the very best Amazon Rainforest Experience in Ecuador!
Sacha Lodge Accommodation
Lodging at Sacha combines the highest comfort for the traveller with the preservation of the environment. All cabins have high thatched roofs and private shaded terraces with hammocks. Cabins are constructed with traditional materials and nestle subtly into the lush surroundings. Each cabin can be configured into a single, double and (upon request) triple cabin. All cabins are equipped with a spacious private bathroom with flushing toilet and hot shower, some feature floor-to-ceiling windows for an immersive jungle shower experience. All cabins are screened against insects and contain ceiling fans above two comfortable double beds
Amenities
Ceiling fan
Safe-deposit box
Wifi Signal
Mosquito nets on all beds
Luxury bed linens
A carafe of purified water in your cabin
A/C on some suites (soon available on all cabins)
Sacha Lodge Information
Sacha Lodge Activities
---
Canopy Walk – A Walkway on the Wildside
---
Imagine crossing the rainforest across a bridge 94 feet (36 meters) high over the treetops. This 940-foot (275-meter) sturdy walkway is fixed to the ground by three metal towers and offers an astounding opportunity to spot dozens of animals and epiphytes seldom seen from the ground, immersed in the canopy. You might even follow along with troops of monkeys as they forage through the forest canopy. And if you don't see them, you'll almost certainly hear them: howler monkeys roaring through the sunset like true kings of the jungle.
---
Kapok Tower – EPIC tree-climbing 
---
You'll feel like you're on the very top of the world on our 135-foot (43-meter) observation tower, a platform built on the highest branches of a giant kapok tree. From here, magnificent, panoramic views of the forest unfold all around, while the 500 species of birds registered in the area, including rainbow-colored toucans and parrots, become easy to spot. Climb onto the crows' nest for the 360-degree experience, the captain of the Amazon.
---
Parrot Clay Lick – A Sound and Color Spectacle
---
A short distance from Sacha Lodge is Ecuador's most accessible parrot lick, an exposed clay riverbank where technicolored parrots of several different species gather in the early morning. In ideal conditions (sunny and dry) hundreds of parrots will perch on and eat the exposed clay in a spectacular show of sound and color! The lick is located on the edge of Yasuní National Park, which is accessible from Sacha by a short canoe trip down the Napo River.
---
The Butterfly House – A Live Exhibition Conservatory
---
Sacha Lodge is home to one of the largest butterfly farms in Ecuador. Designed as a live exhibition conservatory, the Butterfly House is now successfully breeding nearly 40 local butterfly species. Guests will be shown how these beautiful insects are bred and raised and may roam through '" the flying room" where hundreds of colorful butterflies flutter from flower to flower. Transparent glass-wing butterflies, spectacular blue morphs, striking tiger longwings, bright yellow swallowtails, and giant nocturnal owl butterflies are only a few of the species you'll encounter here, up close and personal.
---
Forest Walks – Walk into a world abuzz with Life 
---
Creeping along the jungle paths through the spotlights of sun filtering down through the canopy, careful not to tread on an army of marching ants, your nature guide will point out plants and insects and the fascinating symbiosis between them. He might take you through the territory of the crested owls or spider monkeys, expertly mimicking the creatures' call to win their trust and coax them out of hiding. When darkness falls, have your flashlight ready to spot creatures of the night, from tarantulas and boas to stick insects and frogs.
---
Creek Paddling – Venture into unchartered waters 
---
Besides being your means of transport between expeditions, creek paddling in dug-out canoes is a fabulous adventure in itself, with the bonus that it requires little physical exertion. Paddling down the streams is like entering into a tunnel leading to a lost world. Birds call in surround-sound and vast families of monkeys leap from branches overhead, a show to coincide with the setting of the sun.
---
Caiman Spotting at Night – A Magical adventure under starlight 
---
A night-time expedition to look for caiman on the lake is perhaps the most magical experience of an adventure already filled with wonder. Under cover of darkness, you will take a canoe out onto the water, your way lit by glittering stars. The eyes of the caiman glow ghoulishly red in the torchlight, as the amphibious creatures float along the swampy shallows.
---
Birdwatching – Spotting exotic and multi-colored birds 
---
Of the incredible 1,600 bird species registered in Ecuador, 600 (37 percent) have been seen at Sacha Lodge. That's almost 7 percent of the species found in the entire world! For avid birdwatchers, we can provide specialist bird guides, who know the best spots for the hard-to-find species and can easily identify species by both sight and sound. Oscar Tapuy, our local expert who has been with at Sacha since 1995, estimates that he spots 60 species per day on average. Your guide will lead you through a variety of habitats where mixed flocks are common, and generally begin before sunrise to take full advantage of the morning peak. The guides carry telescopes, and have become dab-hands at taking photos with your camera or phone through the lens!
---
Providencia Community Visit 
---
Our visit takes us to the Shipati Warmi project, an initiative run by and benefiting the women of the Providencia community of Yasuní. Through an unobtrusive dialogue, we learn about their day-to-day lives: how they dry clothes in the jungle and the challenges of getting to school, before helping to prepare and trying traditional food. It's an intimate, unique experience, in which we discover both the differences and similarities between our own and another culture. The Shipati Warmi project asks that each guest donates $ 5.
---
Lake Pool 
---
Ideal for families, the Lake Pool is the only one of its kind in the Amazon region. The plunge pool, protected by a mesh cage, allows you to cool off and relax in the black shallows of the Pilchicocha Lake, without the fear of encountering the unknown. You could even spot caiman and giant otters swim by the other side of the net.
Sacha Lodge – Itineraries
---
Delve into jungle life with the four-day or five-day adventure. Forest walks, caiman-spotting and the one-of-a-kind Canopy Walk are essentials of the expedition, though we recommend at least four nights to take advantage of our off-site activities, like the Community Encounter.
---
Create your own itinerary
---
Once you have arrived at Sacha Lodge, you are free to create your own itinerary with your guide, choosing from our list of activities. Please note, some activities are dependent on the weather.
---
Getting to Sacha Lodge
---
After making your reservation, we will have Sacha Lodge book your flight from Quito to El Coca. From the moment you set foot at Quito airport, you will be in the safe hands of bilingual team members and will be guided all the way to the Lodge.
---
Arrival to Sacha Lodge
---
After arriving at Sacha Lodge around lunchtime and meeting your guide – who stays with you for the entirety of your trip – you will take your first excursion into the forest. Once you have returned and had dinner, you will set out for your first nighttime adventure.
---
A Typical day at Sacha Lodge
---
A typical day at Sacha begins at sunrise or earlier, taking advantage of the cool morning hours when the rainforest's animals are most active. Each group agrees on a wake-up time when their guide will knock on their door for a rude awakening! Breakfast will begin half an hour after that. Wherever the destination, our excursions proceed slowly in order to appreciate the fascinating details that our guides point out around you.
---
Possible Activities at Sacha Lodge
---
You might begin the day paddling dugout canoes along tannin-rich black-water creeks and lakes, where luxuriant lianas, orchids, bromeliads, and palm trees thrive, always with the possibility of spotting animals, from the tiny pygmy marmoset to the feared ocelot or puma. Then, you could board the motorized canoe for a short ride along the Napo River to visit the Providencia Community of Yasuní, learning about their jungle way of life and testing out their cooking techniques, stopping to watch the parrot disco of the clay lick along the way. You will return to the Lodge in the late morning, in time for a 1 PM lunch. In the time between lunch and your afternoon adventure, you are free to enjoy the Lodge, lounging on sun chairs with a book on the Balsa, or cooling off in the Lake Pool. Activities begin again between 3:00 PM and 4:30 PM and often continue into the evening when the nocturnal insect and frog chorus begins. An afternoon excursion might see you trekking through pristine Terra Firme forest, where 150-foot kapok trees tower above and roots form huge buttresses to give trees support, your guide pointing out the crest owl territory and calling to the howler monkeys. You could then climb 94 feet (30 meters) up to the Canopy Walk, a 940-foot (275-meter) bridge across the treetops from where you can spot dozens of animals and birds.
---
Nighttime activities
---
Days at Sacha Lodge do not end with the fading of the light, or even with dinner. Night walks and canoe trips, with the aid of flashlights, often reveal creatures seldom seen during daylight. Caimans (of the alligator family) and giant insects rule the jungle after sunset. Do you dare search for them?
---
5-day Tour 
---
Visiting the Amazon and Sacha Lodge for 5-days will allow for more activities such as the Community Encounter activity.
---
*Please note: activities are subject to weather, though Forest Walks, the Kapok Tower, and Canopy Walk are the keystones of the Sacha Lodge experience.
Sacha Lodge 2020 Rates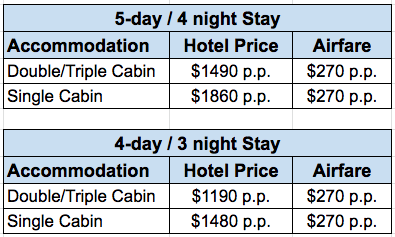 Rates Include:
Accommodation
All meals
Welcome Drink
Water, tea, and coffee in all meals
Aquatic transportation
Excursions with native and bilingual guides
Taxes
Rates do not include:
Other alcoholic and non-alcoholic drinks
Gratuities
Native community interpretation center entrance fee $5 USD p.p. paid locally (optional visit)
Additional Information:
30% discount for children under 12 years of age
Free hotel for children under 5 years of age
*Special Note:
We can begin and end our programs on any day of the week, except on Sundays. Visits to the parrot clay lick are offered on Wednesdays and Sundays at no extra cost. (optional visit, if weather permitting)
Before you leave to Ecuador
Double-check all of your reservations and tickets – from your departing flight to your hotel in Quito or Guayaquil, transportation to Sacha Lodge, and your flight home, plus any other plans you might have for your time in Ecuador.
Make sure you have friends/ family taking care of your house, picking up your mail, and watching your pets. Unplug all small appliances in your house for safety and saving energy. If you are traveling during the winter, set your thermostat to 60°F so that your pipes don't freeze.
Arrive at the airport 4 hours prior to your international flight (or more if you are traveling during a busy time or from a high-traffic airport).
At the Quito Airport
After making your reservation, we will have Sacha Lodge book your flight from Quito to El Coca. From the moment you set foot at Quito airport, you will be in the safe hands of a bilingual Sacha Lodge team member and will be guided all the way to the Lodge.
After arriving at Sacha Lodge around lunchtime and meeting your guide – who stays with you for the entirety of your trip – you will take your first excursion into the forest. Once you have returned and had dinner, you will set out for your first nighttime adventure.
Sacha Lodge Packing List
Passport and color copy
Cash in small denominations for bar services, tips or souvenirs (Visa and MasterCard are accepted at the Lodge)
Personal medication to last for the duration of your trip
Sunhat + Sunblock
Sunglasses + Swimwear
Walking shoes or sneakers + waterproof sandals
Socks: We recommend tall socks that don't slip easily inside rubber boots. Two pairs per day are ideal.
Light-weight, earth or dark-colored long-sleeved shirts and t-shirts
Light-weight quick-dry hiking pants
Goretex jacket
Rain poncho or Rainjacket
Insect repellent (natural with no chemical like DEET)
Binoculars (waterproof) + Backpack
Headlamp (or Flashlight) + Extra batteries.
Inexpensive magnifying glass (optional)
Personal first aid kit
Camera + Dry bags + Extra batteries or disk
Rubber Boots supplied at the lodge. Available sizes 5 to 12
Luggage weight limit: 20 Kg per passenger
DO NOT BRING FOOD OF ANY KIND: Food attracts ants and other unwelcome critters to your suites!