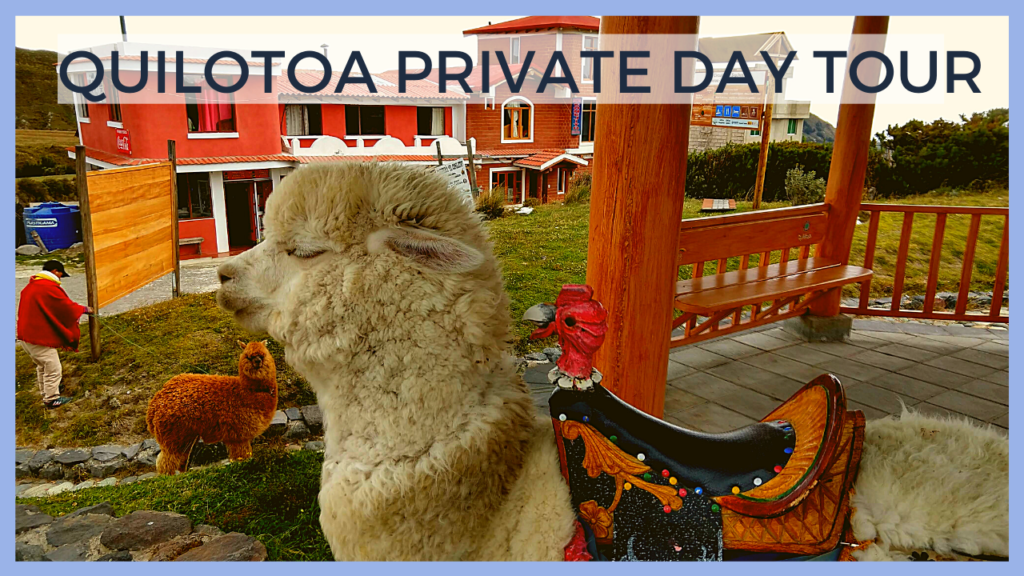 A mysterious crater lake awaits in Quilotoa
A private day tour to the Quilotoa Crater Lake is a must when visiting Ecuador!
Quilotoa Location
Quilotoa is located about 15 km North of Zumbahua, a small town in the Pujili canton of the Cotopaxi province. It takes about a 3-hour drive from Quito to reach the town and crater of Quilotoa.
How the crater lake was formed
The Quilotoa caldera is 3km (2 mi) wide. It's truly a breathtaking sight. This is the first thing you see as you arrive at the small town of Quilotoa. From the many look-out spots, you can take in this amazing and inspiring view. The caldera was formed 600 years ago after a massive eruption. At the bottom of the crater, you will find a lake 250 meters deep with greenish water due to dissolved minerals. Fumaroles and hot springs are also present on the lake floor. Remember the water is not potable.
What to do when you reach Quilotoa
Once you arrive at Quilotoa you can take it easy and admire the amazing landscape from the different look-out spots. Most visitors like to make their way down to the bottom of the crater. This trek takes 30 minutes going down and 1-2 hours coming back up.
At the bottom of the crater, you can rent a kayak ($2.50 per person) and paddle in the lake. You can trek around and then head back to the top. If you feel too tired mules are available to take you back up and they cost $10 USD per person.
What to do on the way to Quilotoa
Your driver will take you to Quilotoa town but you can always make stops on the way. On Wednesdays and Sundays, you can stop by the Pujili market, on Saturdays the Zumbahua market, and on Thursdays, you can make a stop at the Saquisili market.
Another great stop is the town of Tigua with its local art forms. There you will find a painting style which originated in this town back in the 1970s. These paintings depict Kichwa legends. In town, you can find more than 300 painters and close to 20 studios showcasing their art. Tigua is also famous for its painted wooden masks of traditional animals and legends. I love these masks, I'm always in the lookout for them and love to have them hanging in my living room at home.
Connoisseur Tip:
Make sure to take some snacks and water to drink. It's always a good idea to take along some sugary beverage or candy to offset the altitude sickness. When you arrive at the Quilotoa village make sure to give your body time to climatize and take it easy for a bit before trekking down to the bottom of the crater.
Carry some change ($5 USD in coins) for the not-so-public restroom and to purchase snacks or drinks in the small village.
How much is a private tour to Quilotoa Crater Lake?
What's included in the tour?
Rates Include
A friendly and knowledgeable bilingual guide
Private transportation to the Quilotoa Crater Lake
Quito Hotel Pick-up and Drop-off
Entrance fees in Quilotoa
Tour pack including water bottle and snacks
Rates Do Not Include
Personal expenses
Tips for the guide/driver
Food and drinks in Quilotoa
How can you sign up for this tour?
Contact us via email: contact@galapagosconnoisseur.com
Send us a Whatsapp message: +593978943569
Give us a call:

USA phone – (623) 565-9945
Ecuador phone – 593 (2) 600-6968

Or contact us using our contact form