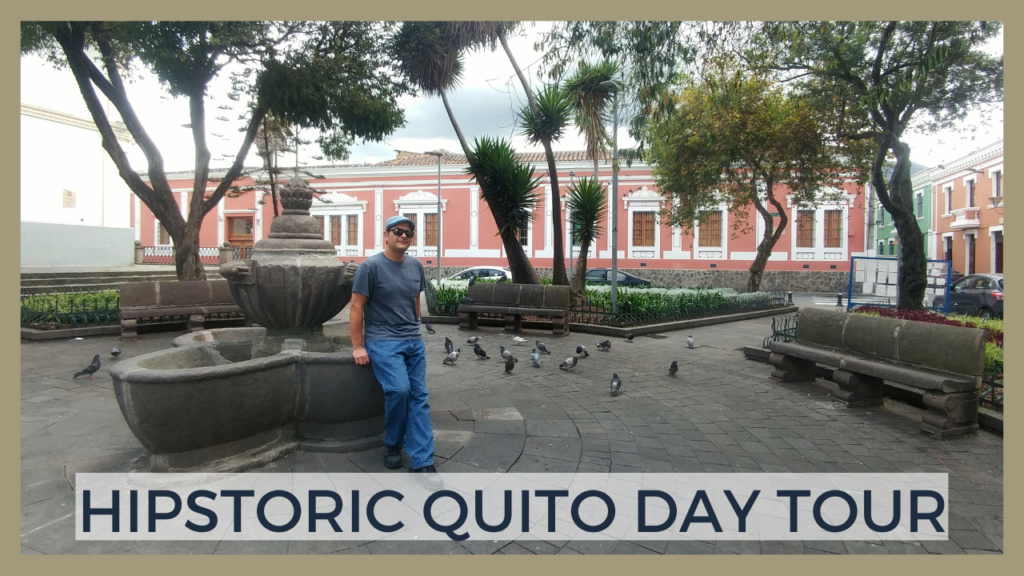 A hip tour of Quito Old Town
A relaxed and unique tour
Our HIPstoric Quito Day Tour is a relaxed tour visiting hip and cool sites in Old Town Quito. Take advantage of your spare time in town and explore Old Town like a true hipster.
Whenever I travel around the world, I do my best to stray away from the crowds and try to find something unique something maybe only I deem special. Nevertheless, its that search for something special that makes exploring an unknown city so great.
Discover trendy coffee shops, get a taste of the modern and traditional street food scene, visit hip art exhibits and museums, and get to meet artists and artisans at their workshops.
This is not your typical, classic Quito day tour. Avoid the crowds, visit off the beaten path sites and get to know the city in a different way.
Highlights:
Discover the hippest locales in Quito – trendy coffee shops, yesteryear coffee roasters, artist workshops, and vintage toy makers.
Experience the modern and traditional street food scene in Quito and treat yourself to some of the locals' favorite gourmet snacks.
Meet artists and artisans and learn how they handcraft Panama hats, Fedora hats, Driver Caps, and more.
Walk around bohemian neighborhoods and streets – San Marcos and La Ronda
Connoisseur Tip:
Here at Connoisseur, we strive to provide different and unique tours in Quito and Ecuador. We keep up to date with new events, exhibits, and happenings in Quito. I personally make my way to the Historic Center of Quito at least once a month to see what's new and interesting. I truly hope you enjoy this tour which I personally crafted for you. You will not be able to find a tour like this at another travel agency we are the only ones that offer this unique experience.
HIPstoric Quito Day Tour Itinerary
Our Hipstoric Quito Day Tour begins with a pick-up from your hotel, Air BNB or accommodation in urban Quito. Pick up will be at 9:00 am. Once the guide/driver has met up with you and your gang we are ready to head out.
After parking, we will head to one of my favorite trendy coffee shops. This particular coffee shop is located in what remains of a burned down theater. You can take some great pics of the theater and of the coffee shop. I personally love to sit outside and people watch while I enjoy an Americano with a snack.
Once done with the cup of joe we are ready to head to Independence Square where we will take a quick look around and enter the Cathedral for a tour of the crypts and a quick museum visit. Additionally, you will get to climb up to the domes of the Cathedral for some of the best views of Old Town and some of the best pics as well.
Our next stop is a vintage coffee roaster. During this visit, you can purchase some quality Ecuadorian coffee to take back home. We'll chat with the main roaster about their techniques and different types of coffee. My personal recommendation is to take home some Bourbon Roast and some Dark Roast Coffee.
I just love the next stop, I am somewhat of a sweet tooth and love to stop by this sweets shop serving traditional Quito sweets. So many delicious snacks to choose from you will not be able to decide.
From the sweets shop, we will walk to one of the most bohemian neighborhoods in Quito, San Marcos. This neighborhood is loved by the hipster community because of its hip bars and restaurants, colorful and historic houses, impromptu art exhibits, vintage hat shops, barber shops, and street food scene. We will have time to explore this wonderful neighborhood and really enjoy being able to walk around without the crowds.
For lunch, we can stick around San Marcos and visit a trendy sit down restaurant or you can opt for a traditional street food joint. If neither is your cup of tea we can head back to Independence Square and visit my favorite sandwich shop in Quito.
After lunch we will make our way back to the parking lot, but not without a stop at La Ronda Street. This street is by far the most renowned street in the Historic Center and it's filled with souvenir shops, handicraft shops, vintage toy stores, ice-cream parlors, and cool art and Quito life exhibits. There's always something new happening in La Ronda Street, so keep your eyes open.
We head back to the car and make our way back to the modern part of town. Before we leave the Historic Center we will make a stop at a kick-ass artisanal beer brewery.
Cheers!
How much does this awesome tour cost?

Included
English Speaking Guide
Cup of coffee
Two snacks
Travel Pack
Private Transportation
Hotel Pick-up and Drop-off
Not included
Additional food and drinks
Souvenirs
Personal Expenses
Tips for the guide
Entrance Fees
Important Information
Dress code: Please wear comfortable shoes for walking
Dietary Requirements
We can accommodate vegetarians and other dietary restrictions. Please notify us in advance if you have any dietary requests.
Packing List – What to bring along
Layered clothes (t-shirt, long sleeve shirt, windbreaker)
Sunhat
Sunglasses
Passport and travel documents copies
Refillable water bottle
Extra cash for souvenirs or extra food or drinks