Best Galapagos 8-day itineraries
The Beagle is one of my favorite boats cruising the Galapagos Islands because it has IMHO the best Galapagos 8-day itineraries. The great thing about the Beagle is that you get week-long itineraries. These itineraries cannot be split like most Galapagos cruises often do, this makes your Galapagos experience much more private and intimate. You won't have to make stops during your week-long cruise to pick up more passengers, losing precious time in the Galapagos Islands. Both 8-day itineraries are jam-packed with activities and great visitor sites.
What's in a name….
Named after the HMS Beagle, on which Charles Darwin made his famous voyage to the Galapagos Islands, and where he got his inspiration for the Theory of Evolution based on his findings in the extraordinary Galapagos Islands.
Construction of the Beagle
The Beagle is a magnificent 105-foot twin screw steel-hulled brigantine with teak decks and beautiful interiors, The Beagle is in a class of its own among sailing yachts in the Galapagos. She was built by Cubow Ltd. in Woolwich, England, in the 1970s. She's been a charter vessel in the Islands for over a decade and has been substantially refurbished under her current ownership.
Friendly staff and top guides
A friendly and highly professional crew of six will attend you while onboard: captain, helmsman, steward, cook, engineer, and your certified bilingual naturalist guide. The guide will accompany you to all visiting sites within the National Park, providing a wealth of knowledge about the geological and human history of the Islands, and of course about every aspect of their intriguing flora and fauna.
What does a Galapagos experience onboard the Beagle entail?
Great service onboard and a friendly knowledgeable staff
Tasty local and international food
Handpicked guides
Exclusive itineraries with isolated destinations
Lower deck cabins with portholes
Locally owned and socially responsible operation
Smart voyager certified Galapagos yacht
The best Galapagos 8-day itineraries
Cabin distribution
Lower Deck:

6 DBL cabins with portholes and bunk beds
1 smaller DBL cabin (can be a single cabin)
Perfect for Galapagos Adventurers
Beagle is perfect for Galapagos adventurers who are looking for the best guides and itineraries in the Galapagos Islands.
When you travel aboard the Beagle you will enjoy:
A vintage sailboat feeling while cruising the Galapagos Islands
Comfortable cabins with a private bathroom and A/C
Storage space
Bedside drawers with charging ports
A single cabin with no single surcharge
Beagle itineraries explained
On the 8 day – Southeastern Itinerary you will visit the iconic islands of Floreana and Española in style and get to catch a glimpse and a perfect pic of Pinnacle Rock the renowned Galapagos sight featured in movies such as Master and Commander. A great itinerary on a great boat!
The 8 day – Northwestern Itinerary is the cream of the crop. It visits 4 of the 5 top 5 islands in the Galapagos, which include; Isabela, Fernandina, Genovesa, and Santiago Islands! This is one of the best itineraries you will find in the Galapagos. And with the help of great guides, you are in for an unforgettable experience!
Connoisseur Tip:
My personal favorite itinerary aboard the Beagle is the Northwestern Itinerary which visits the most sought after islands in the Galapagos archipelago which include: Isabela, Fernandina, and Genovesa Islands. Truly a magnificent and complete itinerary.
Come aboard the M/S Beagle and feel like Darwin during his renowned voyage in the Galapagos Islands!
Beagle itineraries
Beagle, rates, inclusions, exclusions, important info and specs

*On a 14 passenger charter, cabin 7 is for double occupation. *10% surcharge for Christmas and New Year departures
Rates include:
All meals and activities throughout the cruise
Bilingual national park guide
Soft drinks
Snorkeling gear (mask, snorkel, and fins)
Kayaks
Fuel surcharge
Onboard accommodations
Wetsuit
Rates do not include:
$100 (Subject to change) Galapagos National Park entrance fee
$20 Transit Control Card
Alcoholic and bottled beverages onboard
Gratuities
Cancellation/medical insurance
Transfers to and from Galapagos on our established flights
Quito or Guayaquil city tour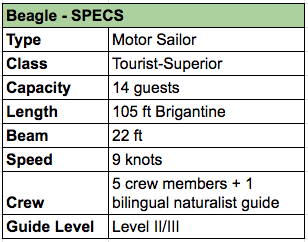 Beagle Highlights
Vintage sailboat feeling
Onboard the Beagle you will enjoy a vintage sailboat feeling while cruising the Galapagos Islands. Reminisce on yesteryear pirates and Charles Darwin´s voyage as you cruise the archipelago aboard the Samba sailboat.
Comfortable Social Areas
You will feel the sensation of space aboard the Beagle for kicking back and relaxing between your unforgettable visits on land. The saloon offers a small library of Galapagos literature, and a selection of games.
All around the wide decks, comfortable seating allows you to choose sunshine or shade for lounging and observation.
Tasty meals onboard the Beagle
Breakfast, lunch, and dinner are served on board with the exception of the day you visit Puerto Ayora when you will enjoy a meal in the highlands of Santa Cruz. Meals blend Ecuadorian and continental cuisine and are served on deck or in the saloon. Coffee and tea are available on deck, cold drinks including beer and a selection of wine and cocktails you may purchase from a well-stocked bar. Refreshing snacks, especially at teatime, round out your daily menu.
Deckplan