Premier Galapagos adventure cruise
The Nemo I is the premier Galapagos adventure cruise. It has its perks over other cruise options. Once you decide to travel to the Galapagos islands you must choose the travel option that suits you best. Nemo I takes you on a sprawling adventure where you can get lost in the magic of the islands.
Great service
As soon as you arrive at the islands your Nemo I Galapagos adventure begins and you are welcomed by one of the experienced team members. You arrive at the spotless vessel ready to welcome guests and set sail. Once on your Nemo I Galapagos cruise you leave your daily life behind and embark on an "out of this world" Galapagos vacation.
Friendly local staff
This family-owned local business brings years of knowledge and the passion Nemo I Galapagos cruises have is displayed in the execution on every Nemo I cruise. You will meet incredible people aboard the Nemo I Galapagos island cruise, the Nemo I hosts passengers from all over the world, and most leave their vacation with long-lasting friendships. When you travel to Galapagos onboard the Nemo I, you can leave all your worries behind and allow the revered crew to handle everything. Nemo I will provide the utmost service and give you a perfect Galapagos adventure cruise.
Nemo I Fun Fact
On one of my visits to the Galapagos Islands, we had just landed on Española island and we saw a group that was finishing their visit and were able to greet them. They were all wearing Nemo I shirts so I asked them about their experience onboard the Nemo I. They raved about the boat, the staff, the activities, and literally said Nemo is the best Galapagos experience! The group was so happy and enthusiastic that I was a bit jealous and wanted to figure out what exactly makes the Nemo I such a coveted Galapagos cruise.
Flexible accommodation
The Nemo I Galapagos cruise accommodation has a unique cabin configuration to accommodate the needs of all passengers. Three cabins have an upper bunk and lower double bed for up to three passengers. Two additional cabins are specifically for couples with a matrimonial bed. Two cabins have one upper bunk and a lower single bed. Accommodation onboard the Nemo I fits with whatever sort of traveling companion you may have whether you are traveling alone or with your family.
2 Double cabins (only for couples) with a double matrimonial bed.
4 Cabins with upper bunk and lower double bed.
1 Cabin with upper bunk and a lower single bed.
Each cabin is equipped with en-suite facilities and a shower.
1 Exterior dining room.
1 Interior dining room.
All cabins offer private facilities such as private bathrooms, cold/hot water, and air conditioning.
Nemo I Itineraries explained
All Nemo Galapagos cruises offer two different itineraries that either voyage North or South. Both are equally amazing, hop onboard Nemo I and begin an unforgettable Galapagos experience.
North 8-Day A Itinerary
The Northern A Itinerary of the Nemo I, first heads north to Genovesa Island, aka ¨bird island¨. Its the perfect start for your Galapagos adventure.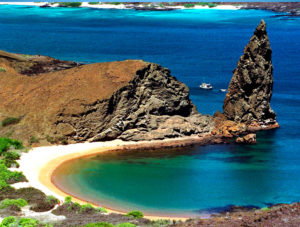 On the way back to the central islands you will visit Rabida and Bartholomew. Bartholomew is the perfect spot for the quintessential Galapagos pic with Pinnacle rock in the background.
The best is saved for last when you head west and visit the sought after islands of Isabela and Fernandina.
North 4 and 5-day A itineraries
The 4-Day A itinerary will take you to Genovesa and back to the central islands of Rabida and Bartholomew.
The 5-Day A itinerary will pick you up in Baltra and sail to the western islands of Isabela and Fernandina.
South 8-Day B Itinerary
On the South 8-Day B itinerary of the Nemo I, you will first head east to San Cristobal for some great snorkeling at Kicker Rock and Witch Hill.
After this, you will head south to the amazing Española island. It's no surprise Española is one of the must-visit islands in the Galapagos. You will have unique wildlife encounters, beautiful landscapes, and a chance for great snorkeling with sea lions and sea turtles.
Floreana island is your next visit. Floreana is a favorite of mine and a great place to learn some Galapagos history and snorkel like a boss.
A great jam-packed itinerary.
South 4 and 5-day A itineraries
The 4-Day B itinerary will take on the last four days of the 8-day South itinerary. Its a bit lackluster since it only visits central islands close to the populated Santa Cruz Island.
The 5-Day A itinerary will pick you up in Baltra and take you to San Cristobal, Española, and Floreana. A fantastic 5-Day Galapagos itinerary.
Connoisseur Itinerary Tips:
Both 8-Day itineraries are great but if I were to be choosing, I would opt for the North itinerary for a week aboard the Nemo I. Its a fantastic itinerary visiting 3 out of the Galapagos top 5 islands. Nevertheless, if you don't have enough time to spend a week in the Galapagos, I would consider the 5-day South B itinerary which takes you to Floreana, Española and San Cristobal for a very adventurous Galapagos trip.
Nemo I Itineraries
Nemo I, rates, inclusions, exclusions, important info, and specs
Nemo I 2020 Rates
Rates Include:
3 meals per day
Bilingual national park guide
Snorkeling gear and use of kayaks at approved sites.
Fuel surcharge
Accomodation in double cabins with private bathroom
Rates do not include:
$100 (Subject to change) Galapagos National Park entrance fee
Galapagos Transit Control Card ($20)
Soft and alcoholic drinks
Gratuities
Cancellation/medical insurance
Wet suit US 5 p.p. per day
Tips and personal expenses
Air flight ticket to/from the Galapagos Islands
Important Information:
All rates are in US Dollars and per person.
Single travelers are allowed to book a Twin cabin on a sharing basis.
The minimum passenger age for FIT cruises is 6 years.
Single supplement 80 %
Child discount: 20% of net rate. Only applicable for 1 child under 12 years of age traveling with two adults. Not applicable for last-minute rates.
For charter children of all ages are accepted.
All rates mentioned are subject to change in the event of local tax increases or other unforeseen circumstances.
Social and Common Areas on the Nemo I
Social and Common areas onboard the Nemo I are distributed as follows:
Main deck
Landing Area
Sun Deck
Sun Terrace
Lower Deck
Living Room
Bar
Shared Outside Dining
Sundeck
Tasty food onboard Nemo I
Your meals will be served inside in the indoor dining room or outdoors in the alfresco dining area. The chef on board the Nemo I works wonders and will always have a great meal for you to enjoy.
Deckplans