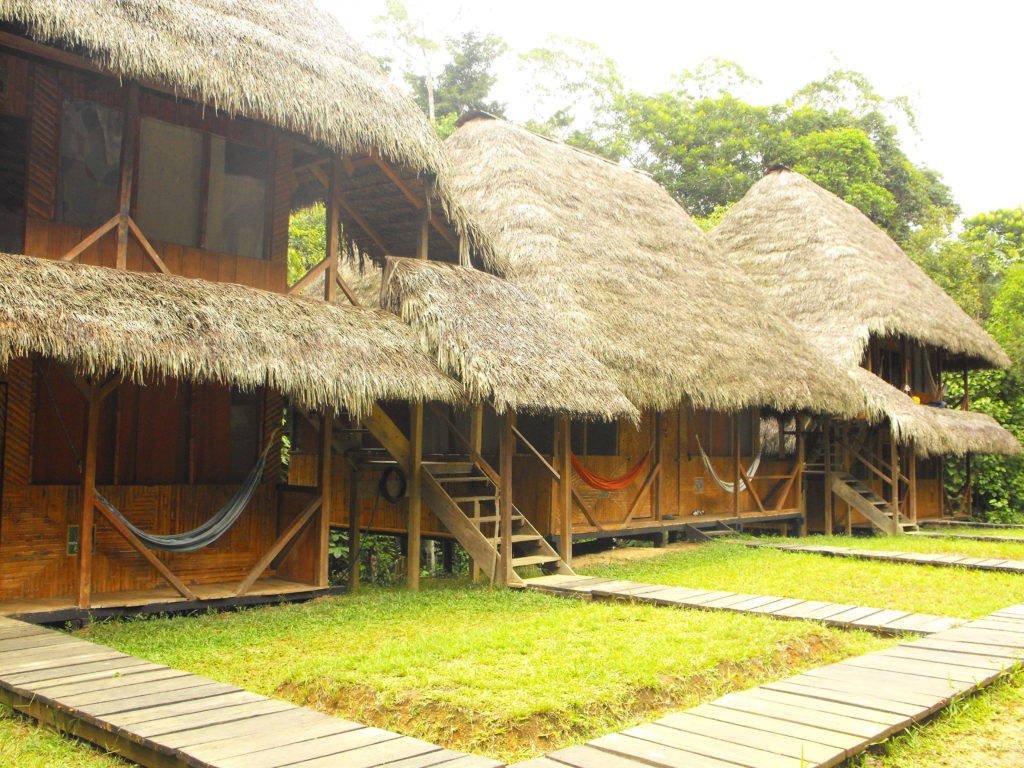 Budget Amazon Lodge
The Caiman Lodge is the perfect choice for travelers looking for the best budget Amazon Lodge in Ecuador. Great activities and an amazing rainforest adventure await.
Location
The Caiman Lodge is a fantastic Budget-friendly option in the Ecuadorian Amazon Rainforest. It is located in the Cuyabeno National Park, one of the last magical spots in Ecuador. In this tropical paradise, you will get in close contact with nature. The location of the lodge is excellent, you will be very close to the Laguna Grande where you can paddle, swim and take in the most spectacular sunsets you will ever experience.
Perfect for backpackers and budget travelers
Backpackers and budget-conscious travelers will love the Caiman lodge. It provides an excellent Amazon experience at a reasonable price point. Solo travelers can choose to share a cabin with other travelers of the same gender to not incur a single surcharge.
Caiman Lodge activities
There are tons of great activities you can take part in when you visit the Caiman Lodge:
Observation Tower *new*
Forest Walks
Creek Paddling
Caiman Spotting
Bird watching
Night walks
Community visit
Shaman experience
Caiman Lodge Accommodation
The Caiman Lodge accommodates up to 40 people in three individual guest huts; each hut has 2 – 4 double or triple bedrooms (as required) each with its own private bathroom and shower.
Amenities
In the lodge, you will find a relaxing area; with hammocks and an amazing observation tower with a great view over the lagoon and the jungle from the 7th floor. All guests are assisted by an accredited naturalist guide and licensed canoe driver.
Social Areas at the Caiman Lodge
In the lodge, you will find a relaxing area; with hammocks and an amazing observation tower with a great view over the lagoon and the jungle from the 7th floor. All guests are assisted by an accredited naturalist guide and licensed canoe driver.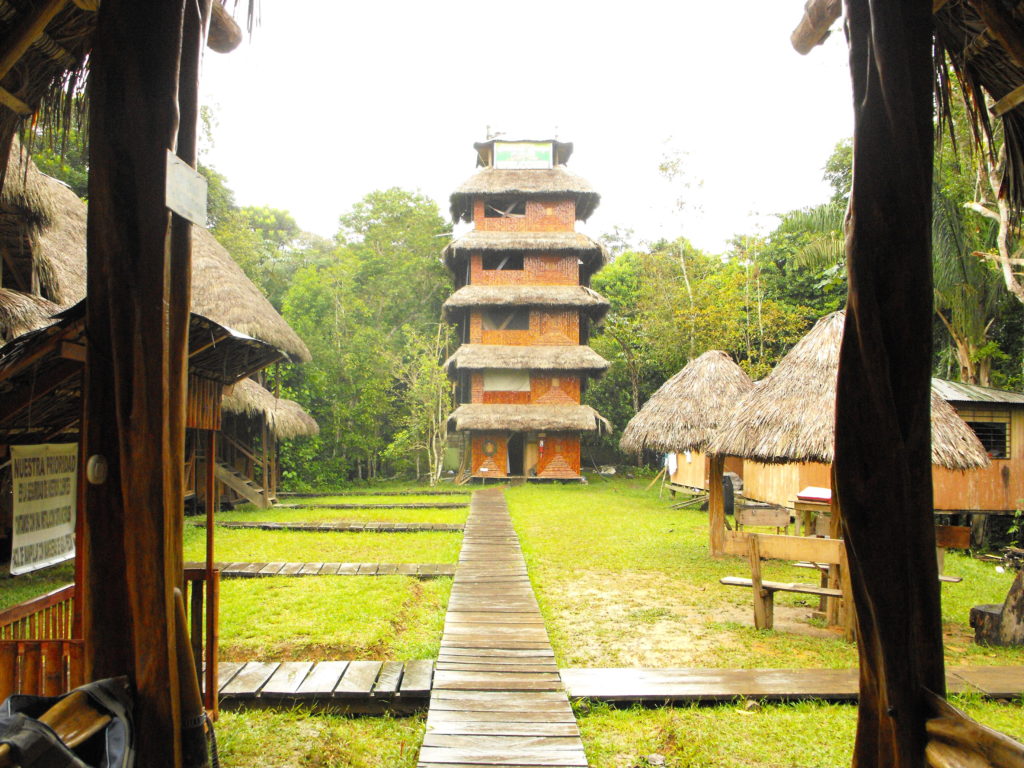 Caiman Lodge Information
Caiman Lodge Activities:
---
Forest Trails
---
There are big chances for you to see a great variety of wildlife such as insects, birds, reptiles, and mammals. Some typical animals you may spot are; anacondas, spiders, giant armadillos, birds such as hoatzins, macaws, toucans, parakeets, parrots as well as monkeys, tapirs, ocelots, etc.
---
Canoe Riding
---
Explore the rivers and lakes on board a motorized or paddle-canoe! In the river, creeks, and lakes of the Amazon Rainforest, you will find hundreds of different aquatic animals such as fish, caimans, turtles, piranhas, and Amazon dolphins.
---
Birding
---
A plethora of bird species can be found in the Cuyabeno National Park, giving you the best bird watching experience, and an unforgettable adventure.
---
Siona community
---
Visits to the Siona Community include a cooking class where you will learn to make Casave a local dish made from yucca. A visit to the Shaman is also included.
---
Hikes
---
Our programs include easy and medium intensity walks and hikes in order to observe the wildlife and nature of the area; more difficult hikes and longer programs can be arranged.
---
Swimming
---
Swimming can take place in the Laguna Grande (Big Lake) close to the lodge.
---
Caiman Spotting
---
At night you will go canoeing in search of caimans. An incredible experience.
Caiman Lodge – 5 days/4 nights
You can choose to visit the Caiman lodge on a 4 or 5-day itinerary.
---
Day 1: Arrival to Lodge / Getting Settled in / Afternoon at the lagoon 
---
We will meet in Lago Agrio at 9:00 am, where we will take private transportation to the entrance of the Cuyabeno Reserve where we will have a lunch box. At this point, the visitors will register at the Reserve's office and then board the canoe. Here our Naturalist Guide will provide information about the Reserve, important recommendations and other tips to begin the two-hour canoe ride down the Cuyabeno River to Caiman Lodge. During the canoe ride, you will get a first glimpse of the amazing flora and wildlife found in the jungle. You may also be able to see a variety of monkeys and other jungle animals, depending on the time and weather conditions. We will arrive at Caiman Lodge at around 3:30 pm. At that time you will be shown to your rooms and you will be able to relax. After a siesta, we will leave the camp for a swim in the lagoon and watch a beautiful sunset while also having the possibility to spot freshwater dolphins. You will then return to the camp for dinner and then we will head out for a night walk and once back at the lodge you can finish your first day in the jungle relaxing in a hammock or having a drink at the bar.
---
Day 2: Jungle Hike Primary Forest / Paddle Canoe / Search for Caimans at night
---
Day Jungle Hike in the Primary Forest where the guide will explain the ecology of the rainforest, medicinal plants and flora and fauna interactions of the most biodiverse ecosystem on Earth. In the afternoon we will go paddling around the flooded Igapo inundated forest around the Laguna Grande (where if the water level is high enough and if you are up to it we can swim while watching the sunset also ) and in the evening we will head out by motor canoe to look for caimans.
---
Day 3: Siona Community visit / Shaman Experience 
---
We will head out downstream to the Puerto Bolivar Siona Community and there we will be welcomed by one of the indigenous women and she will take us to the yuca plantation to harvest some yucas and with our help, she will show us the preparation of one of their traditions foods, Casave (Yuca flatbread). Immediately after this the guide will introduce you to one of the last 4 Shamans of the Siona tribe in Ecuador and there one of them will explain their cosmovision directly related to the Ayahuasca brew, he will perform an energy cleansing part of the ritual singing their chants which come from a millenary Shaman-apprentice oral tradition
---
Day 4: Early morning Birdwatching / Extra activities
---
Early morning birdwatching (5:30) and sunrise, breakfast at the lodge. If you buy the 5 days 4 nights tour this day you can paddle half day looking for animals around the lagoons and along the Cuyabeno and La Hormiga rivers or also go for new walks on different paths with your naturalist guide.
---
Day 5: Early morning Birdwatching / Departure from the Lodge 
---
Early morning birdwatching (5:30) and sunrise, breakfast at the lodge and at 9:30 return to the Cuyabeno bridge where we will have a box lunch and then you will be picked up by a shuttle bus which will take you to Lago Agrio so you can get back to Quito either by bus or airplane also.
Caiman Lodge 2020 Rates

Rates Include:
Meals from Lunch day 1 until lunch on day 4 or 5
Tea / Coffee and Filtered Water
Accommodation Double/Triple or Matrimonial cabin
Transportation from Lago Agrio to the Caiman Lodge and back to Lago Agrio
Bilingual Naturalist Guide
Rain Poncho and Rubber boots
Rates do not include:
Transport from Quito to Lago Agrio and back – return flights approx. $190 US – the bus is between $10 US – $15 US
$5 US Contribution to Siona Community Visit
$5 US Contribution to Shaman Visit
Alcoholic / Soft drinks
TIPS
*Contact us for further information
Access to Caiman Lodge:
---
Recommendations for your trip from the city of Quito to Lago Agrio and return:
---
Option 1:
---
Travel by public bus: (the night before the tour) Departure: 23:30 pm from Terminal Quitumbe (Quito) The Transport Co. Name: TransEsmeraldas or Transportes Baños Arrival: 7:00 am Bus Terminal Lago Agrio Price: $ 13 USD per person (subject to changes)
---
Option 2:
---
Travel by public bus (the previous morning of the tour) You may leave Quito in the morning to get to Lago Agrio in the afternoon/evening, there you should overnight. Estimated journey time: 7 hours approximately For the return from Lago Agrio to Quito, there are buses that leave every hour, all day.
---
Option 3:
---
Travel by airplane: Airline: Tame Quito – Lago Agrio / Flight 201 / 10:00 am – 10:50 am Lago Agrio – Quito /Flight 201 / 5:00 pm – 6:00 pm The lodge recommends these flights since they are in line with their logistics and operation.
Caiman Lodge Packing List
Sunglasses
Light Jacket / Raincoat
Flash Lights (Preferable LED for the night walk and caiman spotting activities)
Swimsuits
Sunscreen
Mosquito Repellent
Water Bottle
Long-sleeved cotton shirts 2 or more
Long trousers 2 or more ( not jeans )
Shorts, 2 or more (quick-drying material )
T-shirts, 3 or more
Cotton socks, a pair per day
Comfortable walking shoes and sandals
Toiletries ( biodegradable shampoo and soap )
Binoculars ( optional )
Original Passport & copy
Zip-lock bags to keep clothes / equipment dry