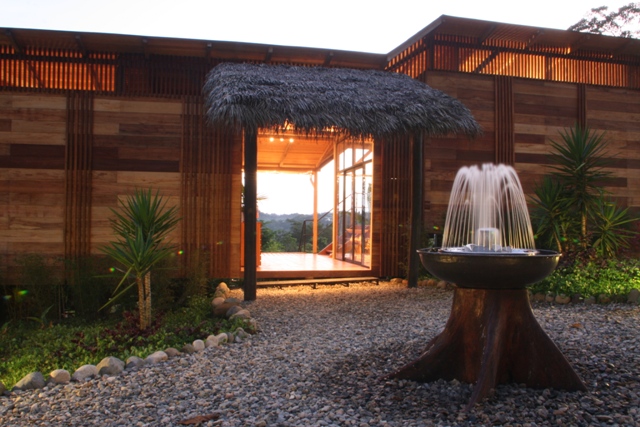 A perfect 3-day Amazon tour from Quito
Hamadryade Lodge is a unique lodge offering in the Amazon rainforest in Ecuador. It is located in the Tena region which makes it a perfect 3-day Amazon tour from Quito. A 5-hour drive will have you arrive at the lodge where you will be able to enjoy its luxurious accommodations, focus on your well being with the lodge´s Spa activities and get in touch with nature and the rainforest surroundings.
Location and Construction
The Hamadryade Lodge is a luxury hotel located 5 km from Puerto Misahualli. The lodge lies inside 65 hectares of primary and secondary rainforest. Furthermore, at this pristine location, you will be able to reawaken your senses and reconnect with nature.
What to do at the Hamadryade Lodge?
Take in breathtaking views of the green landscape and grandeur of the Napo River from the main lounge. Moreover, relax in the lounge, enjoy the sounds of the jungle, have a drink, and savor the chef's creations.
On the other hand, the lounge is the perfect place to meet and interact with other guests.
Connoisseur Amazon Tip:
If you are looking to visit the Amazon Rainforest in style, the Hamadryade Lodge is perfect for you. Its luxurious accommodation, incredible amenities, permanent WiFi, and gourmet cuisine will entice you.
Hamadryade Lodge activities
The lodge has both adventure and wellness activities:
Adventure activities
Walk in the jungle
Birdwatching
Jatun Sacha jungle hike
Paddling kayak/native canoes
Visit the Kichwa community and Shaman
Night Walks
AmaZOOnico Animal Reserve
Las Latas Waterfalls
Waysu Yacu Lagoons
Rafting Lessons
Wellness Activities
Acupuncture
Massage
Semi ecological Swimming pool
Shamanic bath
Temazcal (steam bath)
Shamanic cleaning
Chocolate tours
Paikawe lagoon
Ayawaska ceremonies
Yoga
Luxurious Accommodation
Each of the five bungalows has a name, a history, and a unique design. They are isolated and detached to provide peace and privacy.
The four suite bungalows boast a spacious interior. Designed with exclusivity and charm. (King size or twin beds).
The Deluxe Bungalow (6 guests) is perfect for travelers with children or for a group of friends. They are divided into 2 floors with 3 bedrooms, 2 bathrooms, a lounge, and a terrace.
All cabins have a private bathroom and hot/cold water showers.
Social Areas at the Hamadryade Lodge
Lounge
Relax in the lounge, enjoying sounds of the jungle, taking a drink, and savor the chef's menus. It's also a perfect place to meet and interact with guests.
You will be immersed in the environment while the caring staff anticipates and takes care of your needs and helps you to organize your stay.
Restaurant and Bar
At the end of the day, take a drink in the bar in front of the jungle to observe the sunset. The fruits, vegetables, chickens, eggs used in the restaurant are 100% organic products, from the lodge´s garden or from indigenous communities.
Each morning you'll enjoy a healthy and delicious breakfast with fresh fruit and juice, homemade granola, jam, chocolate, and bread.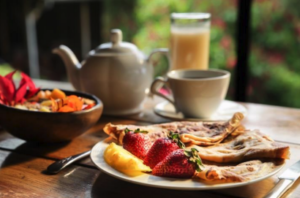 The chef will surprise you with his recipes born of a fusion between Ecuadorian Amazonian products and the ancestral techniques of French cuisine.
Hamadryade Lodge Information
Hamadryade Tena Lodge Activities
---
Cooking Classes
---
The head chef and his team organize various cooking workshops a la carte: world cuisine, fusion, French cuisine, or typical Ecuadorian cuisine. Taking you on a journey to discover new culinary horizons. Cooking classes last around 2-3h.  Hamadryade Lodge's team takes care of everything: aprons, ingredients, recipes, and necessary utensils. Each cooking class ends with a tasting of previously made meals in a friendly atmosphere and exquisite jungle setting.
---
Beginner Rafting – Class II
---
The family rafting experience in the Anzu river is perfect for beginners as no experience is needed at all, making it the best introductory contact with white water rivers for people that do not have much practice at swimming or kids that are just learning. The easy rapids and stretches of calm water allow the adventurer to jump off the boat at any time and swim around as much as they want to, the jungle scenery seen throughout the entire trip is beautiful and there is no dangerous wildlife around or inside the river, on the contrary, this river is widely known as one of the best birdwatching spots. Kayaking experts in safety kayaks accompany us in our journey down the Anzu River at all times in case of an emergency. Includes lunch, shuttle, pictures and you can even bring your pet in the boat! The duration is 5 hours and 30 minutes.
---
Advanced Rafting – Class III
---
You will have a box lunch on the go. Activity duration (9:00 am – 5:00 pm). The half-day in the Jatun Yaku is the best option if you don't have much time but still wanna experience rafting and live an adrenaline-fueled adventure in a beautiful river. The Jatun Yacu is a Class III river thus its rapids are safely challenging and a lot of fun, despite being a short trip it will be filled with stunning jungle scenery, birds chirping and a horizon full of mountains that will make of this an unforgettable journey. Includes shuttle and pictures and the duration is 4 hours and 30 minutes.
---
Visit the Shaman
---
Get ready for something completely out of the ordinary and an unforgettable experience, you will visit the Shaman for a cleansing! (3:30 – 4:30 pm) Contrary to the common beliefs shaman cleansing rituals are not about having a spiritual guide drive off evil energies. Instead, the shaman is nothing but a mere assistant in our own cleansing, one who acts as a bridge between the person who wants to be cleansed and the spiritual world where the power for cleansing our souls lies. Therefore, the clients are the ones cleansing themselves albeit with the necessary help and guidance of the shaman who makes use of smoke and different plants in order to help us focus on the aspects of oneself that we want to improve.
---
Huaysa Yaku Waterfall
---
The Huaysa Yaku natural pools are a gem in the middle of the Amazon Rainforest, freshwater streams are perfect for bathing and relaxing after the hike. These pools are located at the end of the road to El Cando, it includes four natural pools, one more beautiful than the others. As soon as you arrive here, you will be able to see the final pool and waterfall that flows into the great Jatun Yaku river. Here you will have plenty of places to sample local food and buy drinks so you only need to bring your shoes and swimming gear.
---
Latas Waterfall
---
This is a recommended trip for all levels of adventure, ideal for the entire family, small kids, teenagers, and adults. The waterfall is located 12km from Tena it is accessible from the road to Misahualli. There are two options, a 15 min walk through the forest that ends in a waterfall with crystal-clear water ideal for refreshing in a sunny day, or, a 30 min walk for adventurers that love hiking in the jungle, similarly, it ends in a beautiful waterfall.
---
AmaZoonico Visit
---
Amazoonico Animal Reserve, the reserve has its own guides, at the entrance they have a small retail shop with a lot of local products, by buying these products you can help the operation of the NGO run by volunteers. A guide will take you on a stroll along their reserve while they tell you stories specific to each and every one of the animals that live there, a lot of which are victims of illegal animal trade, a very soul-touching experience. This is not a zoo as some animals roam around freely, only the ones that have to be in cages are.
---
Kichwa Community Visit
---
The Shiripuno community is a kichwa community located close to Misahualli. Furthermore, it's a women's association who will share their culture, knowledge, and kichwa way of life. Activities include; making chocolate, panning for gold, traditional dances, and understanding the cosmo reality of the kichwa people. Spend a full day or a half-day here. Additionally, enjoy a traditional lunch with Maito, fish, or chicken cooked in a large leaf with jungle spices.
Hamadryade Lodge Itinerary Info
---
The Hamadryade Lodge handles its itineraries differently than most other lodges in the Amazon Rainforest in Ecuador.
---
They have two types of packages:
The Hamadryade Experience Package
On this package you can choose: -The 3 days/ 2 nights package (includes 2 half-day activities) -The 4 days / 3 nights package (includes 4 half-day activities)
Half-Day Activities to choose from:
Walk in the rainforest
Boat tour in a lagoon
Visit of a Kichwa community Tubbing tour
Walk and bath in a waterfall Chichicorumi museum
The Hamadryade Culture and Adventure Package
On this package you can choose:
-The 3 day/2 night package (includes 1 full-day activity) -The 4 day/3 night package (includes 2 full-day activities) -The 5 day/4 night package (includes 3 full-day activities) -The 6 day/5 night package (includes 4 full-day activities)
Half-day/Full-day Activities to choose from:
Walk in the rainforest (HD)
Boat tour in a lagoon (HD)
Visit of a Kichwa community (HD)
Tubbing tour (HD)
Walk and bath in a waterfall (HD)
Chichicorumi museum (HD)
Night walk (HD)
Amazoonico rescue center (HD)
Kayak (FD)
Jatun Sacha Biological reserve (FD)
Rafting (FD)
Kichwa community (FD)
Hamadryade Lodge 2020 Rates
---
Experience Package Rates
---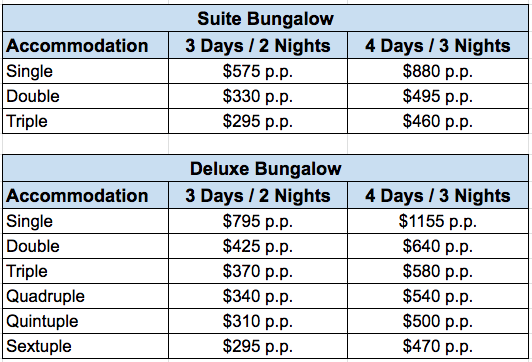 ---
Culture and Adventure Package
---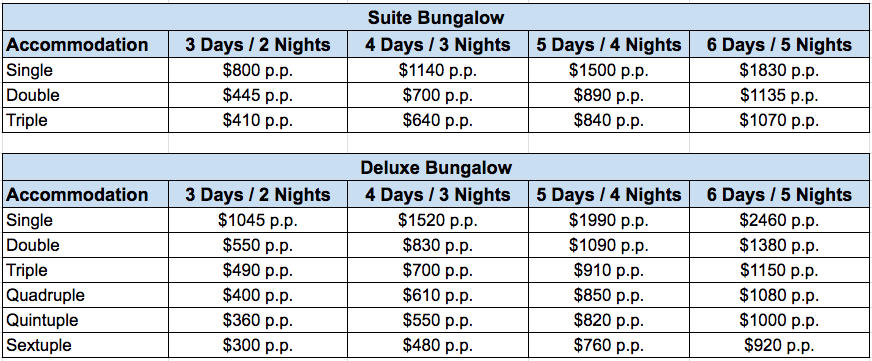 ---
Lodging Only
---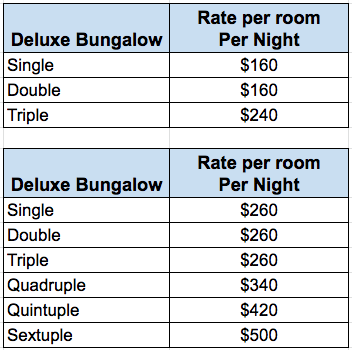 ---
Included
---
Lodging
Swimming Pool
Guide
Activities
Meals
---
Not included
---
Beverages
Optional activities
Massage and SPA
Transfers to/from the Lodge
---
Additional Information
---
Prices are quoted per person (except lodging only option which quotes per room)
A welcome drink from our garden and a delicious natural breakfast is included
Children under 12 years pay 50% of the rate
VAT not included
$30 per lunch and per diner with reservation
Access to Hamadryade Lodge
---
From Quito
---
Take the Guayasamin Tunnel to Cumbaya.
Follow the Cumbaya/Pifo direction.
There is only one road from Pifo to Baeza, passing through Papallacta and Cuyuja (Quito – Baeza: 100kms / 1h45).
After Police control, follow the Tena direction (on the right) through Baeza, Cosanga, Archidona and then Tena (Baeza – Tena: 80kms / 1h45).
Go through Tena, pass the hospital, and drive another 4kms to Puerto Napo. At the entrance of Puerto Napo, before the bridge, turn left on the Puerto Misahualli Road. Drive 11kms to the entrance of the Lodge. Please note that the Road on the Sumaco Mountain can be rough and require to drive slowly and safely.
---
From Banos/Puyo
---
You arrive directly at the Puerto Napo bridge. Cross the bridge and then turn right in Puerto Napo and follow the Puerto Misahualli Road.
Drive 11kms to the entrance of the Lodge.
WHAT TO PACK:
---
Life in the jungle is very informal. You should bring along:
Comfortable and lightweight clothes
Long pants
Cotton shorts
Long-sleeved T-shirts
Sneakers
Sandals
Hat/cap
Sunglasses
Rain gear
Insect repellent
Sunscreen
Flashlight with extra batteries
Binoculars
Reading material
Digital camera, vintage camera or cellphone for your wonderful pics
Notepad or sketchbook for diary keeping or sketching
A great attitude to enjoy this amazing place!