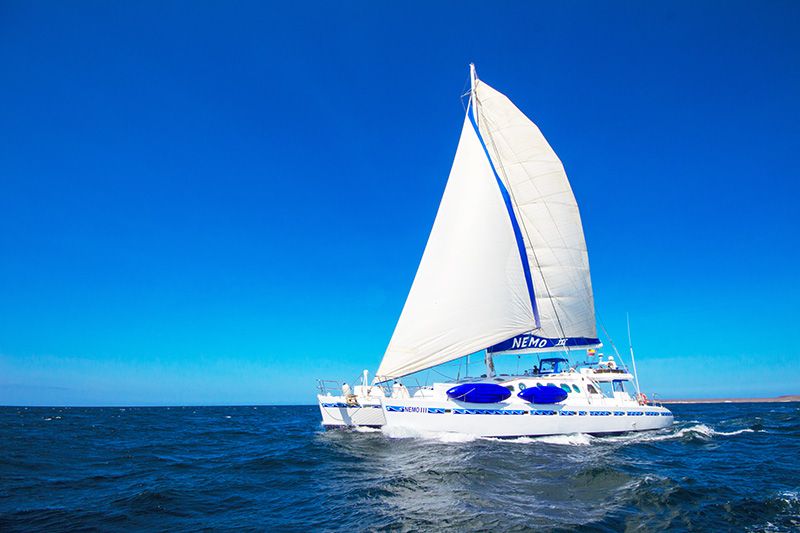 A First-Class Galapagos Catamaran
The Nemo III is a beautiful First-Class Galapagos catamaran.
Great service
This all-inclusive Nemo III Galapagos cruise allows you to stay in double cabins each with their own private bathroom. Delicious meals will be provided three times daily with local menus created by the most talented chefs taking your vacation on a culinary adventure.
Expect the best guides and crew
You will be accompanied by a certified guide while visiting each island giving a detailed historical tour with snacks upon your return to the Nemo II. The Nemo II has an excellent captain and crew that are very experienced and attentive to the needs of their passengers.
Accommodation onboard a First Class Galapagos catamaran
Accommodation on board the Nemo II has been updated recently. En suite bathrooms, beds and extra features such as a reading light to add that extra touch of luxury to your Galapagos cruise have been addressed. Nemo III holds up to 16 passengers, making it the largest among the Nemo Galapagos cruises.
The cruise accommodation consists of two cabins with two single lower beds, perfect for two adults. There are an additional three cabins with one lower double bed and one single upper bed. There are three cabins with one double bed specially made for couples. Every cabin has ample space to store your belongings during your cruise. Nemo III cabins appeal to any sort of party in attendance whether it be a single traveler, a couple, or an entire family.
All cabins offer private facilities such as private bathrooms, cold/hot water, and air conditioning.
Nemo III Itineraries explained
Nemo II offers two different itineraries that either voyage North or South. Both are equally amazing, hop onboard Nemo II, and begin an unforgettable Galapagos experience.
North 8-Day A Itinerary
The Northern A Itinerary of the Nemo III, first heads north to Genovesa Island, aka ¨bird island¨. Its the perfect start for your Galapagos adventure.
On the way back to the central islands you will visit Santiago and Sullivan Bay for some great snorkeling.
After this visit, you head west and experience the sought after islands of Isabela and Fernandina. On the way back to the central islands you will revisit Santiago island but this time will get to snorkel at Buccaneers Cove.
4-Day A itinerary
This short 4-day version of the A itinerary will take you to Genovesa and back to the central island of Santiago.
The 5-Day A itinerary will pick you up in Baltra and sail to the western islands of Isabela and Fernandina and stop at Santiago on the way back to Santa Cruz.
South 8-Day B Itinerary
On the South 8-Day B itinerary of the Nemo I, you will first head east to San Cristobal for some great snorkeling at Kicker Rock and Witch Hill.
After this, you will head south to the amazing Española island. It's no surprise Española is one of the must-visit islands in the Galapagos. You will have unique wildlife encounters, beautiful landscapes, and a chance for great snorkeling with sea lions and sea turtles.
You return to Santa Cruz to mingle with the Giant Galapagos Tortoises.
Floreana island is your next visit. Floreana is a favorite of mine and a great place to learn some Galapagos history and snorkel like a boss.
And finally you visit Bartholomew with its beautiful Galapagos landscapes and Pinnacle Rock in the background.
A great jam-packed itinerary.
South 4 and 5-day B itineraries
The 5-Day B itinerary will take you on the first five days of the 8-day South itinerary. You visit San Cristobal, Española, and Floreana all in 5 days.
A 4-Day B itinerary is a bit lackluster. You will be picked up in Baltra and taken to Bartholomew and some central islands of interest.
Connoisseur Itinerary Tips:
Both 8-Day itineraries are great but if I were to be choosing, I would opt for the North itinerary for a week aboard the Nemo I. Its a fantastic itinerary visiting 3 out of the Galapagos top 5 islands. Nevertheless, if you don't have enough time to spend a week in the Galapagos, I would consider the 5-day South B itinerary which takes you to Española, Floreana and San Cristobal for a very adventurous Galapagos trip.
Nemo III Itineraries
Nemo III, rates, inclusions, exclusions, important info, and specs
Nemo III 2020 Rates

Rates Include:
 3 meals per day
 Soft beverages
 Snorkeling equipment
 Use of kayaks
Rates do not include:
$100 (Subject to change) Galapagos National Park entrance fee
$20 Transit Control Card
Alcoholic beverages consumed onboard
Cancellation/medical insurance
Important Information:
Single supplement 60% Of the net rate
Children under 15 years have a 20% discount
For Christmas and New Year, we only sell 8 days cruises surcharge 10% for Charter and FIT
Holiday week (Christmas and New year only 8-day cruise with surcharge 10% fit and charter.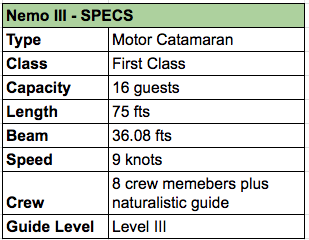 Social and Common Areas on the Nemo III
The social and common areas onboard the Nemo III are distributed as follows:
Main deck
Lounge
Kitchen
Cabins 1 and 2
Lower Deck
Jacuzzi (Enjoy a jacuzzi with amazing Galapagos views)
Dining
Cabins 3, 4, 5, 6, 7 and 8
Your meals will be served inside in the indoor dining room or outdoors in the alfresco dining area. The chef onboard the Nemo III works wonders and will always have a great meal for you to enjoy.
Deckplan