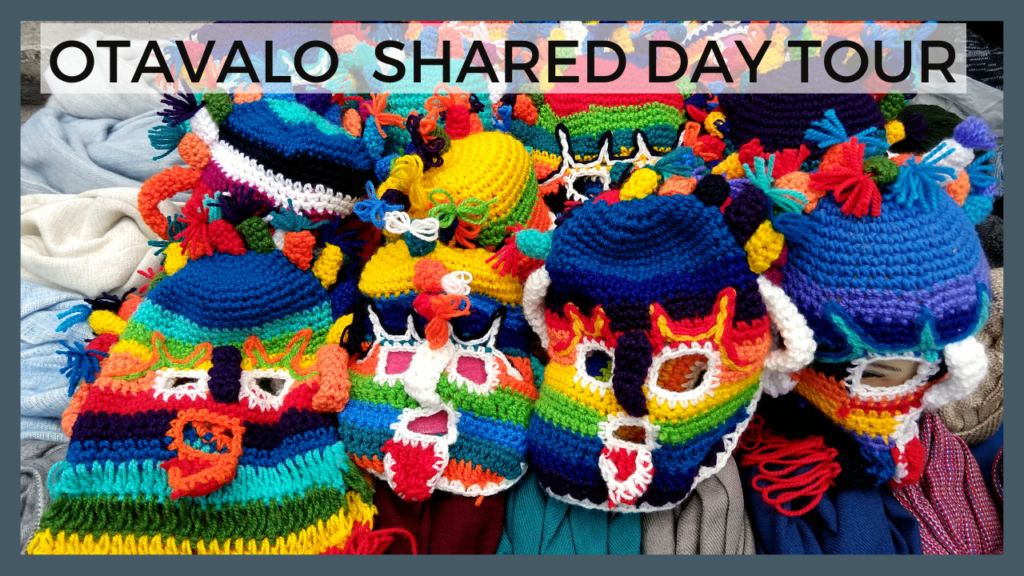 Otavalo Market, Cayambe, and Cotacachi
Otavalo has been the home of the largest and most important indigenous market in South America for hundreds of years. Saturday is the best day to visit since the market spreads throughout the whole town. This market and its many traditions date back to pre-Incan times, where traders would arrive from the Amazon region ready to trade.
Nowadays the Otavalo market has evolved into a cultural crossroad and has become a must visit for all tourists. The local indigenous "Otavaleños" still hold on to their traditions and customs and you can always see them wearing their traditional clothing. Men wear felt hats, ponchos and short white pants, their hair always kept in a long ponytail. Women wear their traditional embroidered blouses, headcloths, wool skirts, sandals, and beads. It's great seeing this indigenous community thriving in business while still holding on to their ancient traditions and customs.
The Ponchos market is always filled with vendors who sell their traditional products which include; wool rugs, tapestries, ponchos, sweaters, blankets, gloves, hats, beads, hammocks, embroidered blouses, paintings, handmade jewelry, pipes made of rocks or tagua, crystals, llama plush toys, and more fascinating products.
I love this trip to Otavalo and its surroundings. On the way to Otavalo, you will make a stop at the town of Cayambe. This is a must-stop, you get to taste "bizcochos" or biscuits in English. These are made fresh every day and you can see how they are made and baked in brick ovens. Here you can also try string cheese made with local milk which goes hand in hand with the bizcochos. It's a lovely town worthy of a visit.
At the end of your tour, you will visit the small quaint town of Cotacachi, famous for its beautifully crafted leather products. Enjoy a tranquil town in the middle of the mountains where you can shop a bit for that leather jacket you've always dreamed of, have a savory cup of coffee from the Intag cooperative, and check out the expats from the US who have picked this town to be their new home.
All in all a trip to Otavalo and its surroundings is truly a must-have experience when visiting Ecuador.
Otavalo Shared Day Tour
You will be picked-up at your hotel early in the morning to avoid traffic.
On route to Otavalo, you will make a stop in the town of Cayambe, where you can taste the delicious "bizcochos" or biscuits, accompanied with string cheese, "dulce de leche" and a cup o' joe, perfect for starting your day off right.
Next you will head to Otavalo, on the way there you will drive-by and observe the San Pablo lake. Once in the town of Otavalo you will visit the Ponchos Market (the largest indigenous market in South America) where you can marvel at the colors, fabrics and textures of the clothes, hand-made jewelry, musical instruments, art and unique hats.
After this cultural highlight you continue the tour with a visit to the Peguche waterfall.
Last but not least, you will visit the "leather city" of Cotacachi, a small quaint town famous for its beautifully crafted leather products. Take advantage of this and purchase that leather jacket you've always dreamed of owning.
Return to Quito afterwards.
How much does this cultural trip cost?
$75 USD per person
Included
Touristic Transport
Bilingüal Guide
Not included
Entrance fee to the attractions
Meals
Tips
Others not specified on the itinerary
Important Information
Any tour in the Andean region of Ecuador involves high altitude, it's easy to get altitude sickness here so please take it easy while trekking, climbing or doing any physical activity.
As mentioned on the packing list, you should dress in layers, this way you are ready for any climate change during the day.
You should have valid travel and medical insurance.
If you have any medical conditions please let us know to advise the guides.
Let us know if you have any dietary requirements to also let the guides know about this.
What to pack for a trip to Otavalo
Layered clothes (t-shirt, long sleeve shirt, waterproof shoes and pants, and windbreaker)
Sunhat
Sunglasses
Passport and travel documents
Refillable water bottle
Trail mix and snacks
Camera
Pick-up locations:
North Quito: Dann Carlton and Sheraton Hotel
Mariscal area: All hotels
Old Town area: All hotels
Pick-up time:
You will be picked up from 6 am -7 am, exact pick-up time will be included in voucher sent on the day prior to the tour.